Jim Rogers JR149 (Vintage)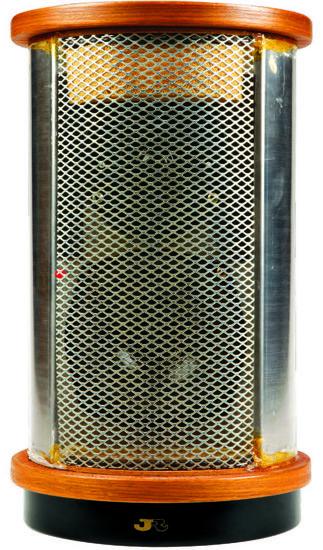 This clever little speaker still sounds more than respectable
An audio pioneer, Jim Rogers possessed real acoustic engineering talent as well as in electronics. The original Rogers folded corner horn may not offer true stereophonic reproduction, but it's a fine room-filling beast. And as for the later flat-to-the-wall Wafer speakers, based on Philips drive units and measuring just 2in thick, these are surprisingly magicalsounding. Then there's the JR149. Unmistakable thanks to its cylindrical shape, the JR149's distinctive high quality wooden end caps (the brochure showed gold-coloured caps as an option) and fluted foam grill. Marketed in 1978 as a 'technical breakthrough', the little JR149 exhibits some strong ideas when it comes to the cabinet structure. Its a ten-litre volume design, the enclosure wall made from high grade aluminium and measuring 12in high by around 8in in diameter.
An infinite baffle sealed enclosure, it is very heavily damped with thick acoustic foam. Below the decorative caps at each end of the cylinder are two fibre discs held under tension via a steel rod, which run through the enclosure from top to bottom. Crossover and cable connections are in a separate metal housing underneath the loudspeaker – matched to the rest of the speaker, as Rogers had made a round printed circuit board!
Speaker inputs connect directly to this, obviating the need for terminals and extra bits of cable. On earlier speakers they were connected to the crossover via four small individual pins, later replaced by a modular four-pin connector. The crossover used pretty decent components, and had a simple wirewound preset resistor for adjusting and matching the tweeter level. The drive units used were from KEF: the classic B110 bextrene cone bass unit and matching T27 Mylar tweeter (discontinued although both are plentiful second-hand).
Rogers was clearly influenced by Harry F Olson's classic Elements Of Acoustical Engineering in respect of cabinet shape versus sound dispersion and diffraction.
PRECISE SOUNDSTAGE
When it comes to positioning, the JR149 is best placed close to the wall, with some toe-in. This little speaker really does produce a big sound from a small box. The soundstage is expansive and the JR149 does a pretty good job of 'disappearing'. The first disc we tried was a 'Living Stereo' SACD reissue of Verdi's La Traviata, and this powerful, romantic recording proved a delight, with performers 'gliding across the room'.
'Accenti Queruli' from the ECM recording The Dowland Project – Care-charming Sleep [ECM 476 052-2] proved just how accurate the little JR149 is on male vocals; John Potter's voice was precisely set in the soundstage with minimal coloration or sibilance.
Treble quality is dictated by the KEF T27 tweeter, and yes, there was a bit of a whispy sound to it – but it is very revealing and off-axis response good. The JR149 does not require the 'head in a vice' position as you listen, and stereo imaging is very wide. As for the bass, while this will never punch you hard in the chest, it is clean, crisp and clear. True, it could sound a little muddled when pushed loud – with Fleetwood Mac's 'The Chain' for example – but there are limits to the physical movement a small bextrene cone is capable of.
Playing two early '80s synth pop albums back to back, Yazoo's Upstairs At Eric's and The Human League's Dare, left a good impression, the sound boasting good weight and impact. 'John Potter's voice was precisely set, with minimal sibilance' The midband also has great clarity, especially the lower end. A mild criticism is a slight hardness here, which surely stems from the metal enclosure. It is perceived as a very subtle ringing and renders the midrange slightly thin-sounding.
VERDICT
It's hard not to be impressed by this little loudspeaker thanks to its satisfyingly wide soundstaging, low coloration and looks that are sure to turn heads even today. It really does back up the claims of its designer at the time, that it was a 'technical breakthrough'. Easy on the ear, easy to position and an easy load to drive make the JR149 an, er, 'easy' speaker to recommend!
Originally published in the Yearbook 2011