Jefferson Airplane: Crown Of Creation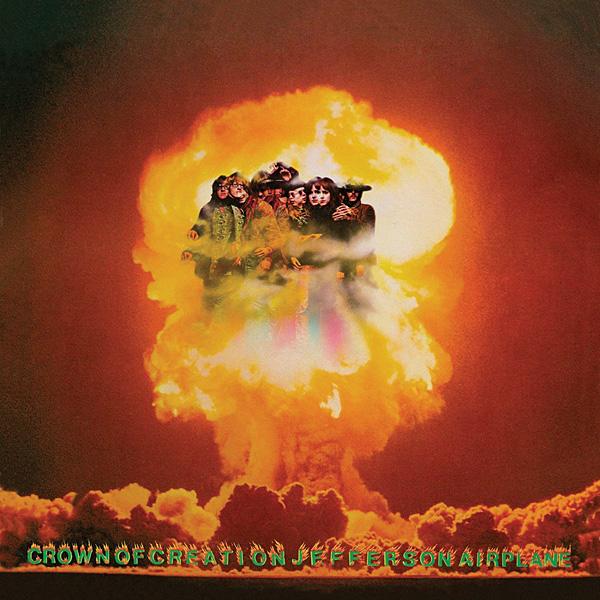 Thinking back to just after the time of his dad's Anderson shelter, Steve Sutherland dips into the 180g vinyl reissue of a 1968 concept album with sci-fi overtones
Devo have actually got nothing to do with this article, but in the past week or so it's occurred to me that those crazy coots from Akron, Ohio may have had a point all along.
Devo, you see, is short for de-evolution: the idea that instead of continuing to evolve, mankind has actually begun to regress. Indeed, on the very day I sat down to write this piece, Donald Trump declared that he had decided to pull America out of the Intermediate-Range Nuclear Forces Treaty, which some commentators are saying could plunge the world back into a nuclear stand-off not felt with such intensity since the 1960s. This was a time when, it seems, a lot of people lived their lives under the shadow of the bomb, convinced that total oblivion was possibly just around the corner.
I was also just reading in David Browne's 2015 book So Many Roads, his rather scurrilous, myth-busting account of the machinations within The Grateful Dead organisation, that in 1962 Jerry Garcia and his then girlfriend Barbara Meier had climbed to the top of a hill outside Menlo Park near Palo Alto in the midst of the Cuban Missile Crisis with no expectation other than to be dead by the morning.
All of which brings us rather neatly, if hardly under happy circumstances, to those other San Franciscan counter-cultural heroes Jefferson Airplane, who, in 1968, released their fourth LP. Called Crown Of Creation, it's an album that's as near-as-dammit a whole concept piece about nuclear annihilation, with a bit of social injustice thrown in for good measure.
Seismically Shaken
The stunning cover was designed by Maryland-born John Van Hamersveld, a graphic illustrator (now 77) who also did the sleeves for The Beatles' Magical Mystery Tour and The Rolling Stones' Exile On Mainstreet, plus the iconic poster for Bruce Brown's legendary 1964 surfer movie, Endless Summer. It depicts the band, double exposed as if the camera were seismically shaken, attired in all their Haight-Ashbury hippie finery, gathered in a huddle inside a mushroom cloud, the image courtesy of a US Air Force desert nuclear test the like of which I guess we might soon see repeated.
Armageddon, it seems, was uppermost in their collectively stoned minds – and a collectively stoned mind it literally was, as the band had just purchased The Mansion for a whopping (for the time) $73,000, a flamboyant enclave wherein all the members could cohabit in a shabby luxury chic befitting new West Coast rock royalty. The gaff was a three-storey Victorian edifice with 20 rooms overlooking Golden Gate Park, where love-ins, free concerts, lots of nudity and other such long-haired, bead-wearing, freak-flag-flying events were titillating the media all over the world.
It was a setting in which creativity, and shared paranoia – not to mention complex personal relationships – could germinate, fester and thrive. There was a studio in The Mansion (it's now known as Jefferson Airplane House) and the Airplane, truly writing and sharing together for the first time, pooled their individual preferences and hang-ups into a bunch of songs that were designed to harangue the straights into blasted submission.
Sci-Fi Inspiration
There were many strands of inspiration ripe for exploration, not the least among them science fiction, which band member Paul Kantner pursued with a particular verve – especially the works of writer John Wyndham, most famous for Day Of The Triffids and The Midwich Cuckoos. Kanter, though, was especially taken by one specific novel called The Chrysalids, which came out in the United States under the title Re-Birth. Published in 1955, it concerned a post-apocalyptic society which rejected all abnormality, and the rebels who sought to escape it. Kantner, not surprisingly, identified with the outsiders and viewed his band as their anti-authoritarian peers. Lord knows what he would have made of Star Wars…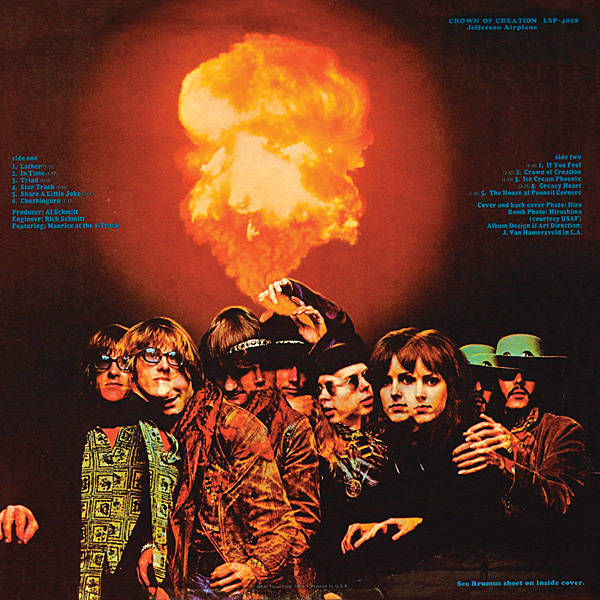 But anyway, the anti-nuclear, anti-war, pro-youth, anti-the aged, stick it to the man DNA that ran through all Jefferson Airplane's early stuff became a little more pointed right here.
The band's Surrealistic Pillow may have been more successful commercially, After Bathing At Baxter's more satisfyingly psychedelically freeform, and Blows Against The Empire and Sunfighter – the Jefferson Starship off-shoot LPs soon to come – might present their case against the tenants in The White House a little more cohesively. But Crown was more trenchant and brutal in its protest against the powers that be, and the potential destruction they appeared hell-bent on delivering.
Nude In The Sand
The album's title is taken directly from The Chrysalids. 'Your work is to survive. Neither his kind, nor his kind of thinking will survive long. They are the crown of creation, they are ambition fulfilled – they have nowhere more to go. But life is change, that is how it differs from rocks. Change is its very nature.'
And the title track quotes liberally from its text. The book has 'In loyalty to their kind they cannot tolerate our rise – in loyalty to our kind, we cannot tolerate their obstruction'. The song goes: 'In loyalty to their kind, they cannot tolerate our minds...'. It's strident, punchy, fist-in-the-air Airplane in all their righteous indignant fury and sets the tone for the rest of the album.
'Lather' is the opening track, almost a nursery rhyme, composed by Grace Slick about her current beau (Airplane drummer Spencer Dryden) turning 30 years of age and all the responsibilities society would consider that entailed. Weird and humorous, with many an appropriate sound effect (typewriters, tanks, etc), it also includes a verse about thrashing about nude in the sand, which refers to groovy bassist extraordinaire Jack Casady who was apparently arrested in Santa Cruz for just such a misdemeanour.
'Triad' is another exercise in baiting the status quo. Composed by David Crosby about a ménage à trois and freely referencing Robert A Heinlein's 1961 sci-fi novel Stranger In A Strange Land, it was rejected by his band, The Byrds, for being too controversial.
This was the straw that broke the camel's back, as the ensuing row saw Crosby sacked from The Byrds by Roger McGuinn. Crosby duly bequeathed the song to the Airplane and Grace Slick characteristically took up the libertarian cause. 'This is 1968, what do you mean you don't want me to play that? What is he saying that is bad? If two women want to live there, and he wants to live there, who cares? His band wouldn't let him and, yeah, I'll sing it!'
Wah-Wah Washed
'In Time' is of a gentler persuasion, a trippy laid-back '60s love song. 'Star Track' is guitarist Jorma Kaukonen's wah-wah washed blues, 'Chushingura' a slight experimental electronic piece, 'Greasy Heart' the single that got pretty much nowhere, and 'If You Feel' features honey-voiced balladeer Marty Balin, the band's co-founder, who sadly passed away last September, aged 76.
The grotesque, rather than grand, finale is 'The House At Pooneil Corners'. Set against blaring sirens, mankind is destroyed, 'jelly, juice and bubbles on the floor... splintered brick and black powder... everything someday will be gone except silence. The earth will be quiet again'.
The album makes as grim, stark, and bold listening today as it did on its release 50 years ago. And the message is the same as it has always been – 'There will be no survivors my friend'.
Re-Release Verdict
With its apocalyptic cover, Jefferson Airplane's 11-track psychedelic rock album Crown Of Creation appeared in 1968 in mono/stereo on RCA Victor RD/SF 7976. It's been reissued on various coloured vinyls in different countries over the years, but the 50th anniversary audiophile reissue from Music On Vinyl reviewed here [MOVLP2211] is pressed on 180g vinyl and comes in a 3mm-thick gatefold sleeve bearing artwork faithful to the original. A leaflet insert is also included. Expect a fine, flat copy with quiet surfaces. HFN