Inspire Hi Fi Black Magic Si Belt Driven Turntable (£560 With Rega Rb202 Tonearm)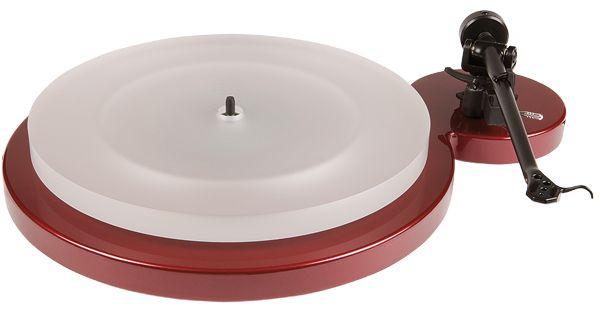 Inspire has created a vinyl spinner that sounds superb for the money, with a neutral tone that delivers bags of musical detail
Inspire Hi-Fi is a turntable manufacturer that's equally at home with belt, direct or idler-drive decks – witness its range of upgrades to some of the most iconic decks of the last few decades. At £560, the Black Magic Si is the entry-level model in the firm's home-grown belt-drive range, and it includes an Inspire-branded Rega RB202 tonearm.
The platter is a precision cut 20mm frosted acrylic disc which has a recessed area in its underside to accept the deck's sub-platter, motor pulley and round section belt. The sub-platter, Inspire's own design, is machined from a block of acetyl resin. This, in turn, is bonded to an aluminium shaft that runs inside a bronze bearing sleeve.
The deck's curvy plinth is made from a single slab of acoustically rigid 25mm MDF, the main circular shape around 340mm in diameter, and with a 13.5mm diameter circular armboard at the two o'clock position. To achieve the chassis' deep gloss finish, Inspire applies no fewer than seven coats of paint. The plinth rests on three cone-shaped, chunky acrylic feet.
You can upgrade the Black Magic by plugging the deck into Inspire's £320 off-board PSU, a steel-cased quartz-locked
speed generator.
The supplied RB202 tonearm employs Rega's standard three-point mounting system, so you could upgrade this too at a later date to a higher-spec model from Rega's stable or to Inspire's own Rega derived X100 Mk2 tonearm.
Attention grabbing
Our review sample came supplied with an Ortofon 2M Blue MM cartridge. From Kwakhu Baah's opening conga slaps and taps in 'Three Hours', on Nick Drake's Made To Love Magic album [Island Records], our attention was grabbed by the Black Magic's way with the music. Each instrument sounded admirably clear with acoustic guitar and congas working within their own spaces.
Notwithstanding the Black Magic's strong analytical abilities, it's no cold or soulless performer. Instead its delivery is distinctly 'analogue', which brings lots of realism to the music. Turning to Tracy Chapman's self-titled 1988 album [Elektra/Asylum Records] showed that the Black Magic can also conjure a sizeable sonic picture. With the Spanish guitar on 'She's Got Her Ticket' voiced well out in the left channel and the track's bass guitar resonating from behind the speaker plane, we were pulled deep into the recording from all round, with Chapman's voice of course taking centre stage.
The bass is also surprisingly well controlled for a deck at this price point: articulate and well rounded, yet without
sacrificing detail.
Timing is another key string to the Black Magic's bow. Put to the test via Goldfrapp's Tales Of Us [Mute Records STUMM356], the Black Magic caught our ear early on with the opening, looping piano riff on 'Drew', before moving on to the rapid start/stop style of the opening strings, which the deck nailed with effortless precision.
Despite the track's changing tempo, the Inspire never sounded as if it was playing 'catch up' and it remained poised as the song gathered pace. Already demonstrated during the quieter and slower passages of this track, the Black Magic's ability to remain cool under pressure was proved as the music's dynamic swings built up – an area where many a mid-priced deck can get a little flustered.
Verdict
By keeping things simple and investing in the areas that matter, Inspire has created a vinyl spinner that sounds superb for the money, with a neutral tone that delivers bags of musical detail. Add a decent cartridge and you'll be blessed with a package that punches well above its weight.
Originally published in the 2014 Yearbook