Icon Audio Mb845 Mkii (£5500)
The appearance might be retro but the performance is right up to date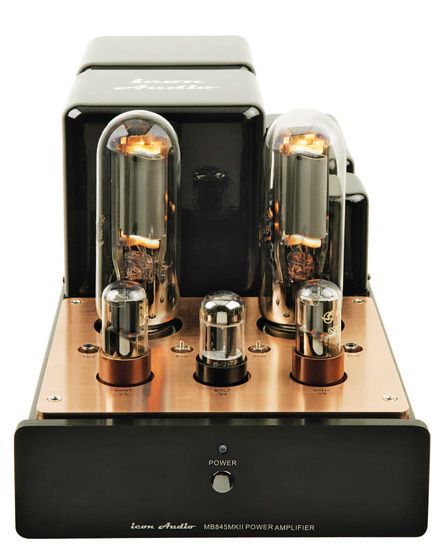 Deliciously retro in appearance, Icon's huge flagship power amps began life in 2009 as the MB845s: so-called because they utilise a pair of the mighty 845 direct heated triodes. Still in production, the MB845s cost just half the price of these latest MkII versions, designer David Shaw significantly reworking an original design rated at 65W and 'repositioning' the model as a more prestigious high-end product. The MkII also employs an improved high current driver circuit employing two 6SN7 dual-triodes.
High power output from the two 845 valves requires a truly massive power supply design too, so the MkII's mains transformer has grown in size compared with that of the original MB845. Icon's tertiary transformers are custom designed and said to employ Japanese long grain iron, hand-wound with low oxygen copper.
Needless to say, these 845s do become pretty hot, so Icon supplies protective valve covers that you are advised to use if your listening room is to be shared with small children and/or pets. But if it's safe to do so, you'll surely want to remove them, to bask in the gloriously vivid orange glow reflected from the amplifiers' top plates.
What you should never do, unless qualified to delve inside an amplifier containing lethal voltages, is remove the amplifier's bottom plate to peek inside. Internal construction features point-to-point wiring throughout, all done using Teflon-insulated silver-plated wire. While Icon Audio has its chassis designs manufactured in China, every amplifier is hand-assembled and tested prior to despatch from Leicester. With these MB845 MkIIs, each pair of 845 output valves is matched to the monoblock and labelled accordingly.
When we spoke with him during the course of the review David Shaw said: 'I'm of the opinion that an audio amplifier should work reliably for at least 20 years, if not longer. And when it fails – because everything fails eventually – it should be easily serviceable, anywhere in the world, with readily available parts.' So, no printed circuit boards are to be found here.
STEADY WITH THE GAIN
What might come as a surprise to today's audiophiles accustomed to listening to digital sources with sold-state electronics, is that there's nothing old-fashioned about the sound of these MB845 MkIIs. Hear them with a high-resolution digital source and you'll be astonished to experience a sound that is crisply detailed and vivid – with fast, tight bass and immense 'slam' that will encourage an almost careless winding up of the system's volume control.
If you listen to a lot of rock music you surely will not be disappointed. Whether an old rock classic on vinyl or modern pop tracks on CD, the amplifier's lack of high frequency edginess allows intimate dissection of a recording's production quality together with hour upon hour of fatigue-free listening.
Feed them source recordings of the highest calibre and these Icon monoblocks create a holographic sound image that will bring tears to the eyes of any music loving audiophile. A 24-bit/96kHz FLAC file featuring organist Iver Kleive playing 'Bridge Over Troubled Water' in Bergen cathedral was a breathtaking experience. The varied tonal sounds and textures of the organ were painted in gloriously vibrant colours, outlined within a wonderful bloom of the cathedral's acoustic space.
VERDICT
While a pair of MB845 MkIIs will represent a substantial investment when compared with many valve amps, you do get a lot for your money. Of course they offer enormous retro appeal, but they combine this with modern design, build quality and finish, with carefully selected parts. And their ability to swing the musical mood between serenely relaxed and fast and furious is hugely engaging.

Originally published in the Yearbook 2011