Hi-Fi Show Live Postponed... Not Cancelled!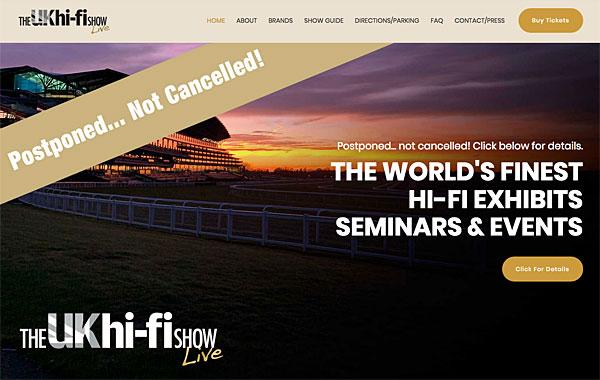 As one more issue of
Hi-Fi News
goes to press under lockdown we give thanks not only to the frontline workers but also to the gift of music recreated by the equipment at the heart of our shared passion. This is a time to count our blessings and appreciate that ours is a 'home hobby' – to tweak, to play and to listen... and to keep us all sane.
Publishers across the board have been forced to make tough choices, as have very many businesses, but I took the decision at the outset that none of the editorial staff working across our three UK titles would be furloughed. Hi-Fi News will continue to offer everything that our loyal readers have come to expect: the highest quality writing, fully independent lab testing, in-house photography and top-notch production values.
But not everything can be brought under control, as the Government's scientific advisors are keen to point out at the daily press briefings. So as social distancing gives way to a more generalised social disruption, nobody can predict what the 'new normal' will look like.
This is specifically important to hi-fi enthusiasts because, as a community, it directly impacts the possibility of us meeting and sharing the experience of great gear and great sounds at our favourite hi-fi shows. Our own high-end event – the UK Hi-Fi Show Live – may offer vastly more open space and fresh air at the Ascot Grandstand than an archetypal show in the stale atmosphere of a crumbling hotel, but it will still involve visitors, many from vunerable demographics, sitting close together in enclosed rooms.
Listening to amazing systems and enjoying seminars together is all part of the fun and while I remain committed to bringing you all a bigger and brighter UK Hi-Fi Show Live, I am keener still not to put any audiophiles at risk. So this year's UK Hi-Fi Show Live is not cancelled, merely postponed until we can meet and celebrate in safety. And when we do, it will be the biggest party the UK hi-fi industry has ever thrown! — Paul Miller Group Editor