Hawkwind: Hawkwind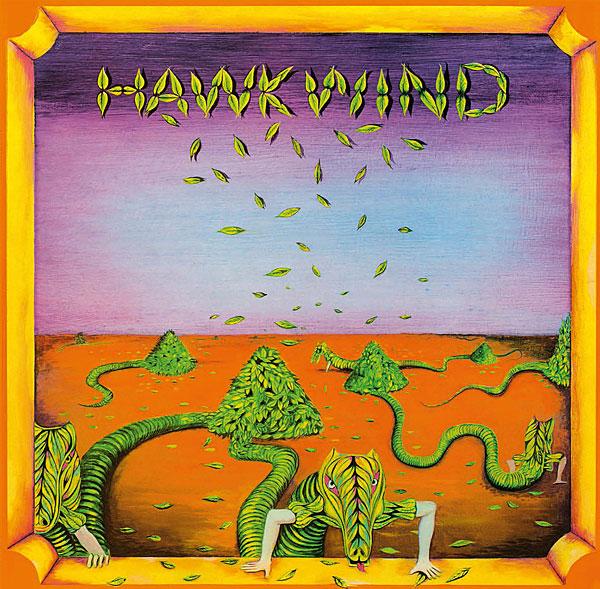 The 1970 album by the lads from Ladbroke Grove was edited from 'live in the studio' takes. Steve Sutherland listens to a 180g vinyl reissue of their space rock debut
Let us not concern ourselves with debating the greatest album ever made. Or the greatest single, for that matter. Because, let's face it, chances are we won't reach any kind of consensus and most likely we'll be here all day arguing about it.
Let's turn our attention, instead, to the greatest book about rock ever written, which is a far easier proposition because there can surely be very little argument that Allan Jones' Can't Stand Up For Falling Down, subtitled Rock 'n' Roll War Stories, is in a higher league than any of the other tomes out there purporting to tell it like it is – or was, back in the halcyon days when rock and pop, and all that, really mattered.
Can't Stand Up... is a compilation of columns called 'Stop Me If You've Heard This One Before' that Allan wrote, about his time as a gunslinging reporter for the now-defunct weekly newspaper Melody Maker. They appeared in Uncut, the magazine he founded and edited after he left the Maker. The events he recalls include being punched out by Black Sabbath's Tony Iommi, wincing as Gregg Allman launches into a domestic spat with Cher, narrowly avoiding arrest in Texas with Ozzy Osbourne at the Alamo, hanging out with a fledgling Joe Strummer, getting chemically messed up with Lemmy, witnessing Lou Reed make David Bowie cry, witnessing John Martyn make Paul Kossoff cry, and getting a long, long way on the wrong side of a very truculent Van Morrison.
Equine Encounter
But among these hilarious and revealing confrontations with our many musical heroes, the one that tickled me so hard that the sole time I tried to read it out loud to the family I couldn't proceed much beyond the first page, for choking back tears of laughter, was Allan's encounter with Hawkwind founder, architect, guitarist and singer Dave Brock, which took place way back in February 1975.
Allan is visiting Mr Brock's bucolic ten-acre farm in Devon where the pair make merry with some smoking concoction called Milawi Tripweed and get themselves into the sort of state where, as Allan puts it, Dave looks like 'he couldn't remember his own name if you'd held a blowtorch to his trousers'. In a vain attempt to clear their heads and get on with the interview, the bumbling pair decide to take a stroll outside in the air, Mr Brock eventually propping himself up against a wooden fence behind which stands a pasture which appears to house a creature Allan is struggling to identify.
He finally twigs a couple of things: 1) the monster with tombstone teeth and hooves is, in fact, a horse; and 2), Mr Brock is not only unaware of its presence but is also blissfully ignorant of the fact that, as the wind lifts his long, flaxen locks, the horse is taking hungry bites at it.
Allan attempts to recover his facility for language as the horse begins to chew on Mr Brock's barnet, finally managing to communicate the fact that his befuddled host is getting an unasked-for crop courtesy of the equine barber. Mr Brock turns slowly and shakes his locks free. 'Wow!' he says, dreamily. 'Amazing…' 'And from where I'm barely standing,' Allan recounts, 'it is.' Brilliant book and brilliant blokes: Messrs Jones and Brock both.
Free Music
By the time he was engaged in creating the album we're here to talk about – Hawkwind's debut – David Anthony Brock had pretty much dropped out of conventional society and, having bummed around Europe and played in a few blues bands, was squatting in communes in North London and laying bread on the table by busking outside tube stations.
An emerging light in the alternative hippy culture putting down roots around the UK, Brock was the first to admit that he wasn't exactly the world's most proficient guitarist. But he had a feel and a vision inspired by free jazz, electronic experimentation and the trance-inducing drone rock being made in Germany by the likes of Neu! and Can.