Halcro dm58 monoblock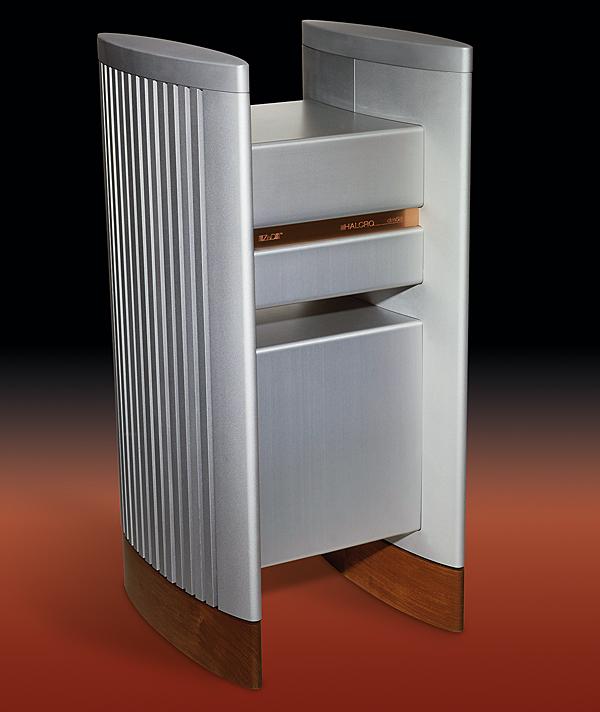 Here's an amplifier that doesn't just look different, it's different through and through. Ken Kessler hears a potent powerhouse from Down Under
There are two piles of magazines, some 150cm tall, sitting in my lounge. They consist mainly of hi-fi titles that I can't read until they're 'out of date'. Why? Because I don't want to be influenced by the reviews, and I don't always know whether or not I'll be reviewing a component I've just seen slammed or praised. Thus it was that I tried to avoid whispers about the Halcro amplifiers from Australia. Even so, I kept hearing about these 'amazing amps' from all and sundry.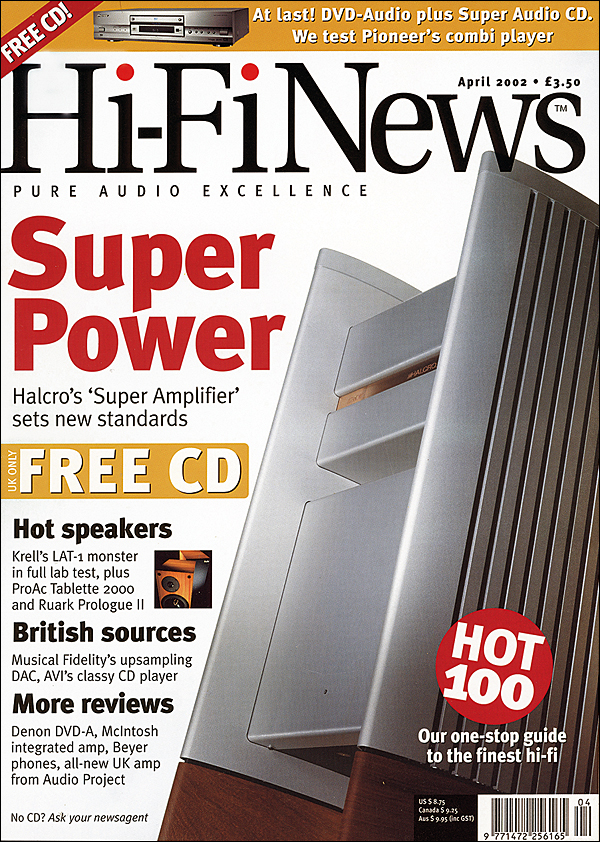 Drink To That
Not that you need anyone else to tell you that the Halcro dm58s are – at the very least – 'different', that they stand out from the pack. The finish is so good it's hard to believe we're talking Land of Foster's rather than Land of Liebfraumilch, while the styling reeks of Denmark. Although vertical amps are now very much 'in' (credit goes to – I believe – Mark Levinson) the dm58s aren't merely vertical but modular, and this tower-like construction isn't simply an aesthetic conceit. With a background based heavily in research, Halcro's designer Bruce Candy determined that there were genuine sonic gains to be made by a change from the traditional physical topology, what he describes as 'a complete reinterpretation of the amplifier aesthetic'.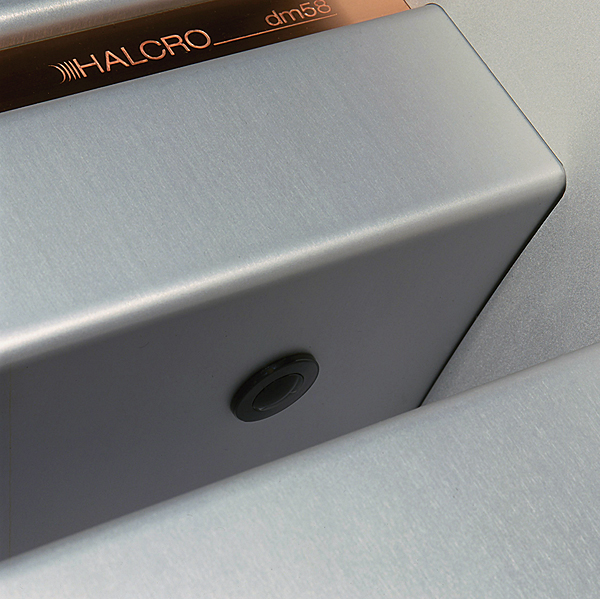 Uncommonly pretty, the Halcro dm58 consists of an aluminium case with a satin anodised finish. The side panels are finned, while all other surfaces are smooth. To add a touch of the organic, each side panel's lower extremity is a solid mahogany foot, also in a satin finish.
Heavy Metal
On the underside of the bottom module is the AC mains input and the primary on/off switch, which you won't ever want to access again: warm-up time from cold is a day. Instead, there's another switch – a funky 'air pressure' push button – resting underneath the upper module. Press it, and the LED on the lower section changes from red to blue. Behind the upper module are solid spade-connector-only binding posts for bi-wiring, an earthing terminal and inputs for single-ended (phono) or balanced (XLR – a rotary control chooses between the two).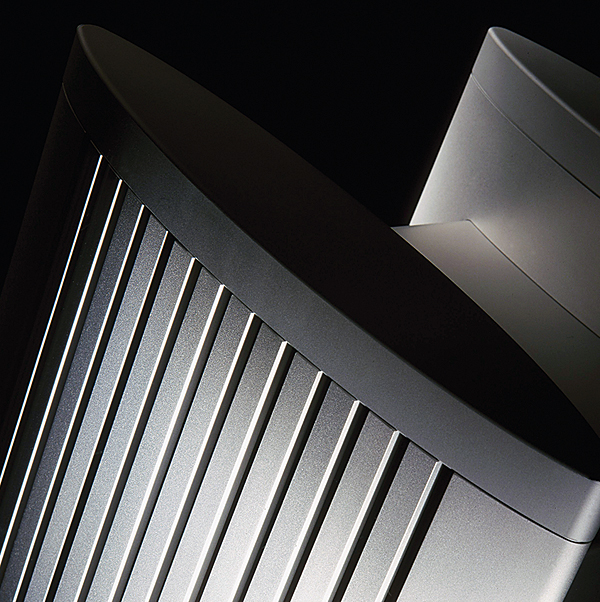 Those modules sandwiched between the two upright sections are the 'housing compartments' containing the Audio Drive Module, the Audio Power Module and the Power Supply Module. Halcro feels that the Audio Drive Module and Audio Power Module 'must be within very close proximity of one another', but they are shielded by a massive 16mm-thick plate of non-ferrous metal to prevent any residual non-linear fields from the power stage feeding back to the input stage.
Stack Machine
The Power Supply Module, on the other hand, is physically separated from the other components for optimum shielding; the base of the Audio Power Module and the top of the Power Supply Module each have 3mm-thick non-ferrous metal plates. The Audio Power Module also requires 'a major heatsink' in order to dissipate excess heat, the dual heatsinks being housed within the amp's vertical slabs.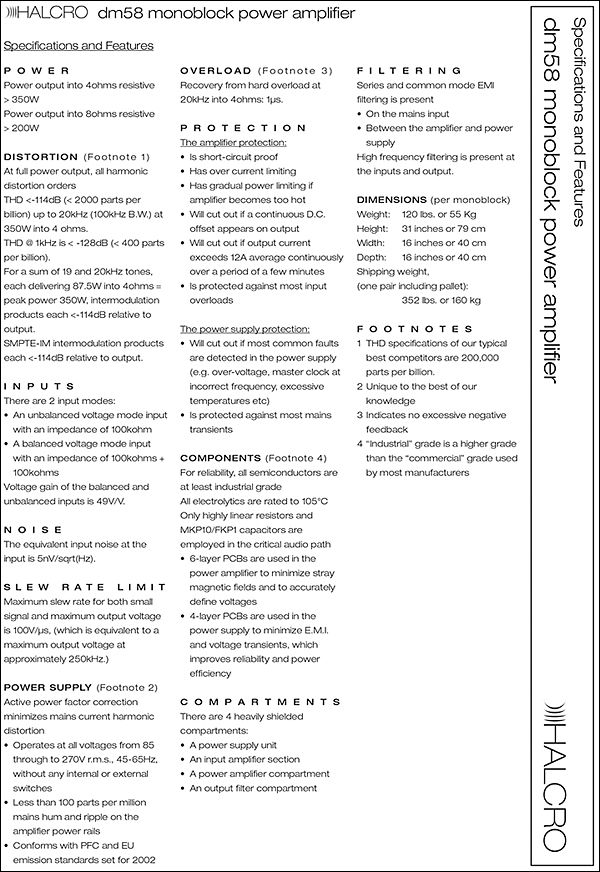 But Halcro isn't tunnel-visioned, so the company also recognises that there are other benefits, including the way that separated, screened boxes perfectly suit vertical stacking to create a small footprint. Well, 'Aussie small' at least, because however much Halcro wants to boast that each 56.75kg unit occupies less floor space than most conventional amplifiers, a 400x400mm footprint is hardly Cinderella-esque. Height, by the way, is an awe-inspiring 790mm, so a pair of dm58s monoblocks is a sight to behold.
Cleverly, the company also points out that this 'aesthetically relates well to the typical vertical speaker formats', and I have to admit that they looked right at home next to the Wilson WATT Puppy System 6 they were driving. Also mentioned on the unit's behalf were the fact that freestanding amps don't require support stands and that the sheer acreage provides maximum surface area for heat dissipation. No matter how hard these were driven, they never got more than lukewarm.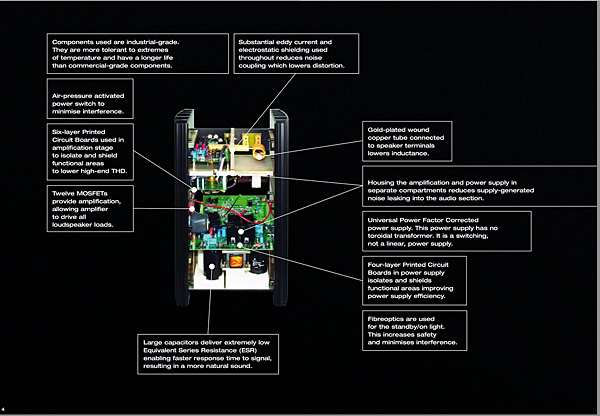 Candy describes the amplifier in the comprehensive technical paper that was supplied as conventional in that its basic circuit consists of a differential input voltage-to-current converter, current mirror, voltage amplifying stage and a unity voltage gain power output stage. It's non-symmetrical because Candy argues that there's 'no such thing' as fully symmetrical – and besides, single-ended triodes are the flavour of the decade, and they ain't symmetrical either. But Candy also has a novel approach to retro, for with the dm series amps, he's revived the specifications war. He feels that the nastiest distortions are in the upper frequencies, and he also believes in clean and fast power supplies.
Power In Numbers
Yet while Candy is perfectly happy to state that there's no such thing as total symmetry and he's not bothered about producing a skin- singeing true Class A design – the quiescent current is deliberately adjusted to a higher level to minimise crossover distortion – he's also playing the specifications game with distortion that is measured in parts per billion. The Halcro uses power FETs in the output stage, delivering 200W per chassis into 8ohm with distortion of less than 4000 parts per billion.