Guns N' Roses: Use Your Illusion I & II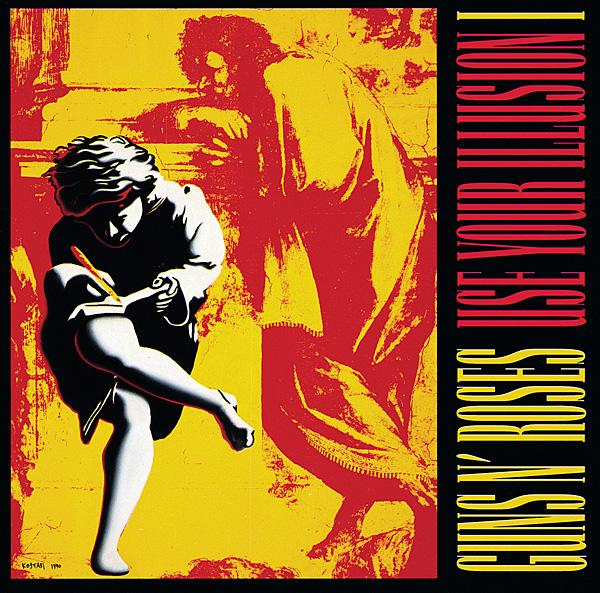 Four years after their electrifying debut, Axl, Slash and co returned with not one, but two double albums – and it was all downhill from there, says Steve Sutherland
Back in the late 1960s there was a band hailing from San Francisco called Moby Grape. They had five talented members who could all sing, play and compose to an incredibly high standard incorporating pop, rock, country and blues styles. They looked pretty cool too, with a perfectly contemporary anti-authoritarian attitude that saw one of their number flipping a middle finger against the American flag on the cover of their self-titled debut LP in 1967 – naughtiness that was airbrushed out by their spooked record company.
Double Trouble
In many ways, then, they were the perfect band for their times and would undoubtedly have been a massive success but for the usual: bad business choices, too many hallucinogens, a penchant for black magic and a desire to kill your bandmates with an axe (true story). But what really did them in was some smart alec at Columbia, their record company, who decided it would be a great marketing wheeze to release five singles from their debut LP all on the same day. In the 1960s, albums generally sold on the back of the popularity of singles that appeared high in the charts. Moby Grape found themselves with five of their singles in competition with one another. Only two of them managed to make the Top 100, the album sank and one of the best LPs, and bands, of the era entered a downward spiral from which there was no recovery.
Fast forward some 24 years and the biggest and best band in the world are on a huge ego trip or a mission to expand their horizons – the jury's still out on that one. Whatever, after releasing pretty much the perfect debut album, 1987's Appetite For Destruction – all killer, no filler, as they used to say – Guns N' Roses decided to unleash two albums on the same day. Not just two albums, mind you. Oh no. Two double albums – Use Your Illusion I and Use Your Illusion II. What's more, they had identical imagery on the covers, only differentiated by a colour change.
Madness, right? Actually, no. Far from standing on each other's toes, both releases went mega. Use Your Illusion II topped the US charts after chalking up sales in the first week of 770,000. Illusion I crashed in at No 2, selling 685,000 in the first seven days. This, in case you don't get it, is superhuman; the sort of stuff that, metaphorically speaking, shifts tectonic plates and causes cultural earthquakes. Taylor Swift-style success well before Taylor Swift became a thing.
Even in retrospect, 32 years later, they were both great albums. Of the two, Use Your Illusion II was my favourite – I reviewed it ecstatically for the now long-gone weekly music paper Melody Maker – but in all honesty they're both peas in a pod, monuments to thrilling over-ambition.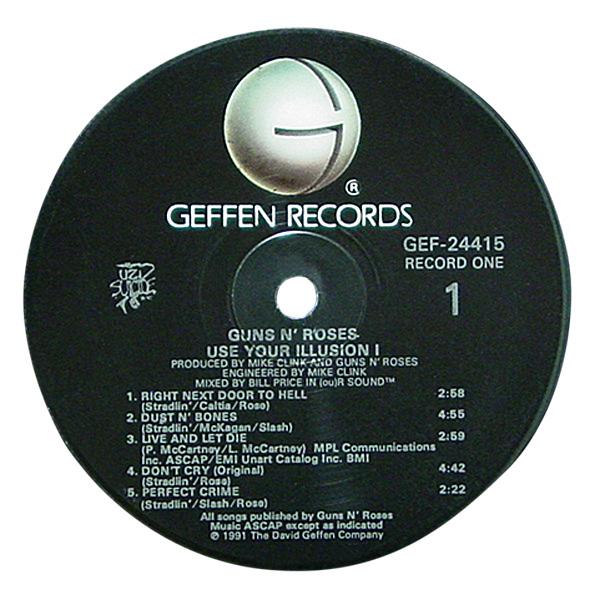 Work In Progress
Guns N' Roses had changed a fair bit since 1987. The Cult's drummer Matt Sorum had replaced Steven Adler who, incredibly, had become too much of a junkie liability for even his hedonistic bandmates to deal with. A bloke called Dizzy Reed had been added on keyboards, so they now numbered six, but none of them were really talking to each other anymore, often travelling separately on the 18-month world tour they'd undertaken even though they hadn't yet finished the albums.
These opuses were proving mighty hard to nail down, as no-one in the group could agree on direction, order, soundmix, etc. One story goes that Guns N' Roses completed the entire mix with master producer Bob Clearmountain, then scrapped the lot and started from scratch with Sex Pistols henchman Bill Price and Mike Clink, adding songs as they moved from studio to studio, town to town.
The albums finally hit shops at midnight on September the 17th, 1991 with a massive marketing push, queues around the block at record stores and TV cameras everywhere. It was quite the cultural event, aided by the fact that K-Mart, Walmart and other major retail outlets managed to boost the Gunners' punk rock credentials by refusing to stock either record due to their prevalence of lyrical profanity. Bingo!
Rock 'N' Roll Soap Opera
Hit-wise, Use Your Illusion I had the epic ballad 'November Rain' (later accompanied by a very expensive grandiloquent video that ruled on MTV), and a fabulously bombastic update of Paul McCartney and Wings' James Bond theme 'Live And Let Die'. It also played like a real-life soap opera, including the usual bitter reflections on past relationships gone rotten ('You Ain't The First', 'Back Off Bitch', etc); two drug songs à la their earlier 'Mr Brownstone' in 'Coma' and 'Bad Obsession'; and the opener, 'Right Next Door To Hell', which detailed singer Axl Rose's set-to with a neighbour who sued him after alleging he attacked her with a wine bottle.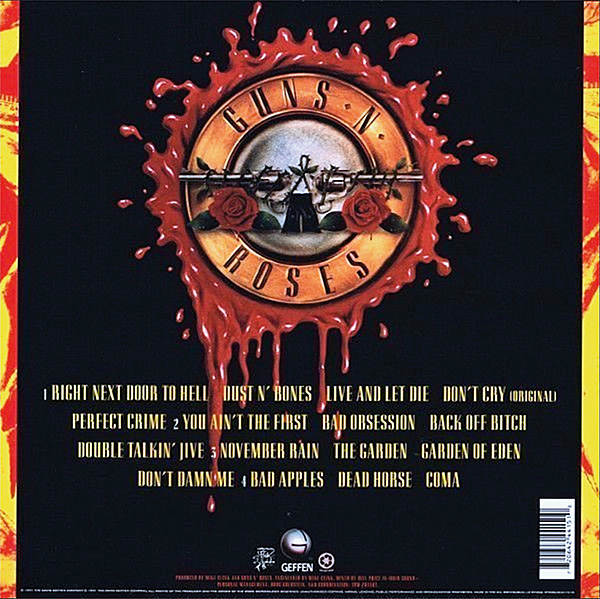 Use Your Illusion II, meanwhile, featured the powerful political anthem 'Civil War', with its smart sample from the 1967 movie Cool Hand Luke; the big Queen-alike hit 'You Could Be Mine', which wound up on the soundtrack to the Arnie Schwarzenegger vehicle Terminator 2: Judgment Day; a fine cover version of Bob Dylan's 'Knockin' On Heaven's Door' from the soundtrack to Sam Peckinpah's 1973 revisionist Western Pat Garrett And Billy The Kid; and 'Get In The Ring'.
The latter namechecks a list of music critics who the band took umbrage with, including Bob Guccione Jr, the publisher of Spin magazine. Apparently he then challenged Axl Rose to a bout of fisticuffs, which the singer declined once he found out that young Bob had undergone quite a fair bit of pugilistic training.
Both LPs included different versions of another ballad, 'Don't Cry', and both were pretty tremendous. It really seemed right there and then, at the zenith of their powers, that there was nothing this band couldn't do if they set their minds, efforts and egos to it. But we were very, very wrong. Guns N' Roses broke up soon after, Rose's mounting megalomania impossible to live with. Rhythm player Izzy Stradlin just quit and did his own thing, bassist Duff McKagan was told to sober up or die, and lead guitarist Slash gradually got himself thoroughly cleaned up.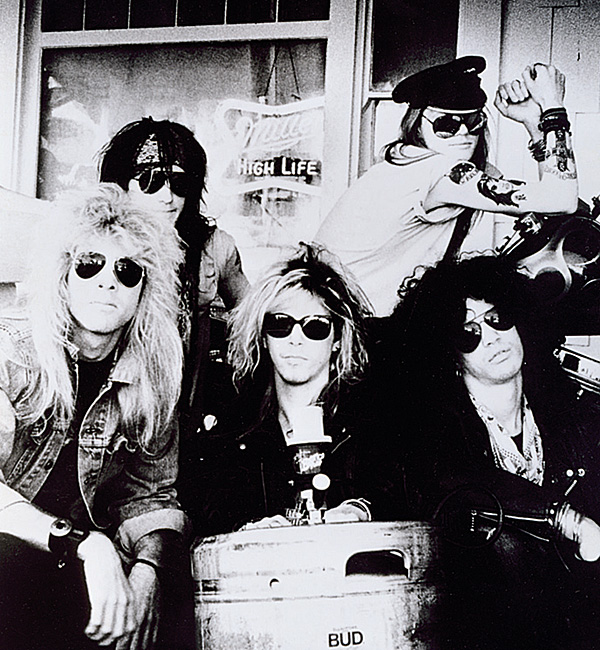 As an entity the band then did nothing for 17 years bar a shonky assemblage of punk cover versions that served as contract filler (The Spaghetti Incident?), until it returned in name only with Chinese Democracy, which is basically an Axl Rose solo effort, and perhaps the most bloated, pointless LP ever to see the light of day.
Today three of them – Axl, Duff and Slash – are back together, criss-crossing the globe doing the nostalgic greatest hits circuit. What a crying shame.
Re-Release Verdict
Both albums have been re-released as 180g vinyl double LPs [Geffen Records 00602445117307 and 0060244117314], using digital remasters based on the original analogue master tapes. Use Your Illusion I includes a 2022 'recording' of 'November Rain', mixed by Steven Wilson. Meanwhile, a limited edition four-LP boxset houses both albums on coloured vinyl [Geffen Records 00602445775262], and is supplied with a zoetrope turntable mat. HFN