Guns N' Roses: Greatest Hits
Steve Sutherland recalls a riotous night at the Tacoma Dome, resolved into a thrilling musical event, as the group's 1984 compilation album makes its vinyl debut
The cop to our left is on his radio, talking to back-up: 'I thought Vietnam was bad – you should see the casualty room. They're piled up in there. Piled up man!'
Where we are is backstage at Tacoma Dome. It's the 16th of July 1991 and we're in America gathering copy for a Melody Maker cover story that will eventually be published under the title 'White Riot!', the first line of which will read, 'The bomb goes off during "Welcome To The Jungle"…'.
In case you haven't guessed, it's Guns N' Roses, currently being billed by the media as 'The world's most dangerous band'. Only a few nights ago in St Louis, singer Axl Rose had spotted someone in the crowd snapping photos. The security guards had refused to do anything about it, so he'd dived in and sorted it himself, before storming off stage.
Smash Hits
There had been a riot. According to the Maryland Heights Police Department, some 2500 fans invaded the stage and smashed the band's gear to smithereens. Sixty people had been injured. So when the cherry bomb launched from the Tacoma crowd explodes on the stage and the band downs tools and walks off, the next five minutes are tense to say the least. Eventually Axl returns, lectures the crowd in rock 'n' roll etiquette and the gig resumes.
Some 30 years down the line, it's still one of the most thrilling shows I've ever witnessed: pure punk rock at stadium level. At this point in their history, the Gunners' debut LP, Appetite For Destruction, has sold upwards of 16 million copies but all's not exactly rosy in their garden. W Axl Rose, up from Indiana with an excessive police record, has been hospitalised, fired by the band for going AWOL in Phoenix, reinstated and then arrested in Australia. In 1989, he'd announced the band was over, on stage in LA while supporting The Rolling Stones.
The reason? He said he was, 'sick and tired of too many people in this organisation dancing with Mr Brownstone' – a reference to one of the band's most infamous songs about heroin addiction.
The next night Slash, the guitarist, had worn a Betty Ford Clinic t-shirt and admitted his addiction in front of 83,000 people. The band had managed to stay together, but Axl's marriage to Erin Everly (daughter of Everly Brother Don) was on the rocks after two days, and one of his songs, 'One In A Million', was reviled by the press as racist and homophobic.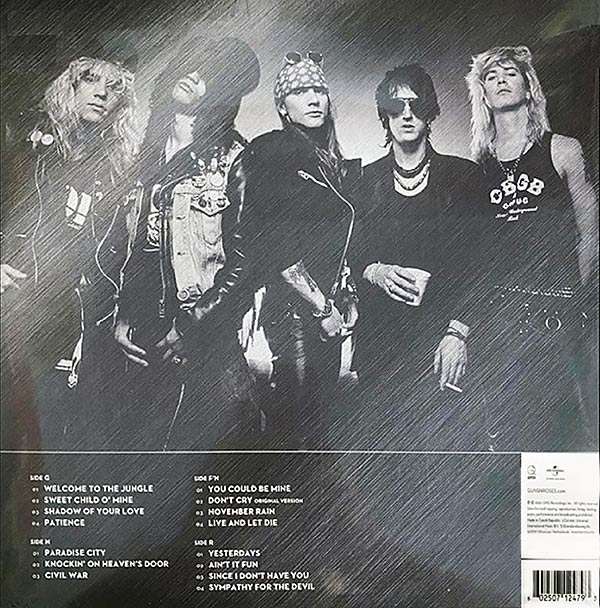 While Axl was busy being diagnosed as clinically depressive, Slash (aka Saul Hudson) was voluntarily detoxing in Arizona after a spell starring as the borderline alcoholic crown prince of the LA smack scene. At one point he was so wasted that friends would leave cards in his pockets so that anyone finding him passed out could phone to have him taken off the sidewalk.
Fellow guitarist Izzy Stradlin (aka Jeff Isabelle) shared Slash's propensity for narcotics and got himself arrested for relieving himself in the kitchen on a plane, while drummer Steve Adler couldn't stick the rehab and was replaced in 1990 by Matt Sorum, who'd played with The Cult. The last time anybody in the band had seen Steve he was staggering around Hollywood wearing only one shoe.
Bass player Duff McKagan was barely in a better state. His marriage had collapsed and in three years' time his pancreas will have ruptured. Given just a month or so to live, he will clean up and survive.
You can find all of this in the grooves of Guns N' Roses Greatest Hits, an album originally released on CD in 2004 and now on vinyl for the very first time. It was compiled by Geffen Records who were fed up with waiting for the protracted release of the long-promised Chinese Democracy album, which turned out, when it finally arrived in 2008, to feature only Axl from the original Gunners' lineup.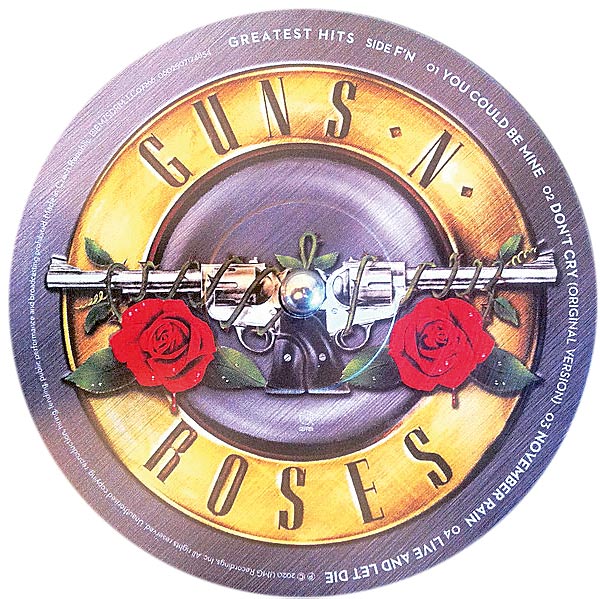 Failed Lawsuit
Characteristically, Greatest Hits was launched into controversy when Axl, Slash and Duff – not even talking to each other at this point – filed a failed lawsuit to prevent its release on the grounds that it wasn't representative of the band.
Critics at the time were also piqued, mourning the absence of key Gunners' tracks such as 'Mr Brownstone', but for all that it's pretty outstanding, NME's review a voice in the wilderness, claiming: 'It's packed with pomp, spunk and circumstance, makes blokes want to fight and girls want to dance. What the f*** else is there?'.
Tracks chosen judiciously include their signature swaggering anthems 'Welcome To The Jungle' and 'Paradise City', the wondrous, unimpeachable classic 'Sweet Child O' Mine' (the group's 'Stairway To Heaven'), their ferocious cover of Bob Dylan's 'Knockin' On Heaven's Door', the pumped-up versh of Wings' 'Live And Let Die' which they totally own, 'You Could Be Mine' from The Terminator 2: Judgement Day movie soundtrack, and the Elton John Rocket Man-esque ballad 'November Rain'.
Less easy to understand are the inclusion of covers of The Dead Boys' 'Aint It Fun' and The Rolling Stones' 'Sympathy For The Devil' which don't really do much with the originals and will never feature near any fan's GN'R Top 20. Adding to the original Greatest Hits release, the new vinyl version includes the song 'Shadow Of Your Love', a Thin Lizzy inspired riff-heavy romp recorded in 1986 which was included on the 2018 box set of Appetite For Destruction. As 'Greatest Hits' comps go, this set will do nicely.
A few hours after the Tacoma gig, we're sitting with a gently sizzled Slash who explains the philosophy behind these tracks. 'If there's no magic, it's just dull. We're not trying to get some truth through. We're not trying to send out any f***ing messages. This is just experience. Like it or not, it's us on vinyl.'
Re-Release Verdict
Originally issued in CD format in 2004 by Geffen Records, this Greatest Hits compilation reached No 1 in the UK albums chart. Now it's released on vinyl for the first time as a double LP with the track, 'Shadow Of Your Love', which when released as a single in 2018 hit No 5 on the Mainstream Rock chart. As well as the regular 180g black vinyl release, there is also a limited edition set on white and red splatter vinyl (£29.99 from the band's official site at uk.gnrmerch.com). HFN