The Everly Brothers: The Everly Brothers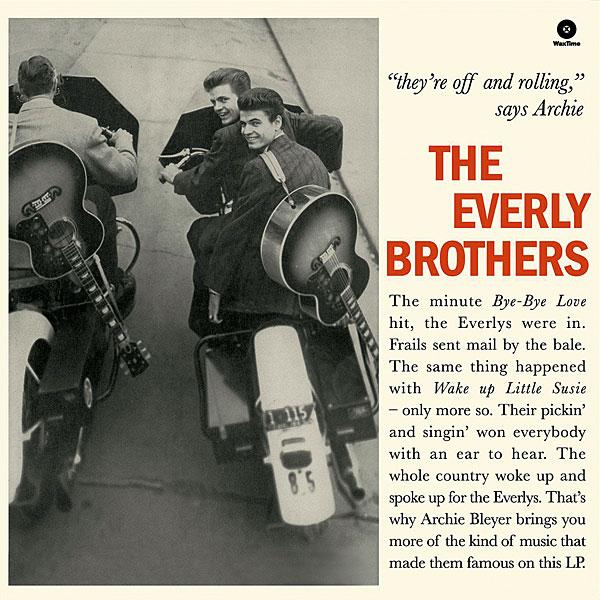 Steve Sutherland tells how the duo tweaked their covers, wrote some originals but finally fell out by the 1970s as he hears the 180g reissue of their debut LP
So many stories, where-oh-where to begin? Maybe we could start on the 14th of July 1973 at that fateful gig at Knott's Berry Farm in Buena Park, California, when Don's so hammered that he's butchering the songs and Phil smashes his guitar in frustration, tells the crowd he's tired of being an Everly Brother and says that they, in fact, died as a meaningful entity ten years before – thus revealing the fraught fabrication behind all those celestial harmonies. It was an acrimony so strong that it kept them full-on apart for the entire next decade.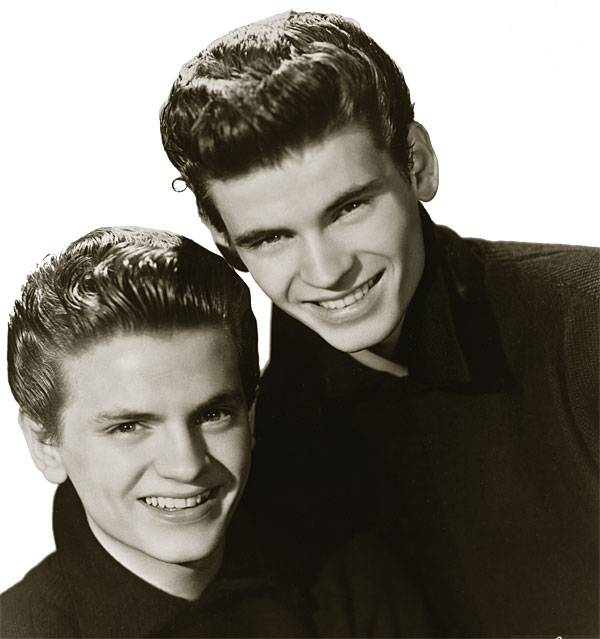 But that's like beginning at the end and, in all honesty, is a little mean, so what say we kick off instead with Archie Bleyer, The Everlys' producer and label boss. He was so intent on maintaining decency that, though he fostered our boys through their early career, he dumped on the mighty Link Wray whose magnificently violent-sounding instrumental 'Rumble' was released on Bleyer's Cadence label in 1957 only for the Linkman's follow-up LP to be censored and shelved on the grounds that the sound was just too darned immoral!
But then again, that might suggest that our Phil and Don were acceptably saccharine in comparison to the rebel rockers emerging in their era, which is not entirely true or fair as we'll eventually see.
And Dream She Did
So how about we try again and proceed with the incredible song-writing team of Diadorius Boudleaux Bryant and his wife Felice, née Matilda Genevieve Scaduto, who hunkered down in a mobile home and between the pair of them cooked up the cluster of songs for which The Evs are mostly famous. 'Bye Bye Love' was theirs, their first No 1, declined by 30 other artists before Phil and Don shuffled a Bo Diddley beat behind it and did the business.
And 'Love Hurts' was theirs too. And 'All I Have To Do Is Dream'. And thereby hangs our tale. Bryant was playing in a band at a hotel in Milwaukee where the 19-year-old Scaduto was working as a lift operator. She clapped eyes on him, he on her, and two days later they eloped – mainly, she says, because she recognised him from a dream she'd had when she was eight years old, and had been searching for him ever since (the premonition leading, obviously, to their penning the aforementioned 'All I Have To Do Is Dream').
Too freaky-deaky for ya? OK, let's get underway with another of their songs, 'Wake Up Little Susie', a composition totally owned by The Everlys and not only the cornerstone of the album we're about to discuss but also one of the tracks that totally defines the magic of rock 'n' roll. Eddie Cochran was probably the guvnor – his 'C'mon Everybody' and 'Summertime Blues' joyous baby steps towards the liberation of a new generation from the expectations, ambitions and codes of conduct imposed by their parents.
Sharp As Knives
There's also no denying the sheer thrilling power to bemuse and annoy in the mighty babbling nonsense of Little Richard's secret gay anthem 'Tutti Frutti' with its 'Awopbopaloobop Alopbamboom' and Gene Vincent's 'Be Bop A Lula' (which The Bros cover pretty well here). But somehow 'Wake Up Little Susie' seems to me the most honest expression of teen angst ever recorded. The tale of two adolescent sweethearts who cosy down in the back row of a movie theatre, fall asleep and miss their curfew home, hit such a chord with the audience it engaged with that some radio stations considered it too near to the bone and banned it.
Perhaps the only dampener on our celebration of this fabulous song is that George W Bush has claimed it as his favourite on disc which (just as when Maggie Thatcher eulogised The Tornados' wondrous 'Telstar') diminishes the sheen just a tad. Still, The Everly Brothers was the very first record that filmaker David Lynch ever bought so sheen restored!
Anyway, the album, their debut, was released in 1958 and titled The Everly Brothers or They're Off And Rolling… or They're Off And Rolling Says Archie… due to the confusing cover design which surrounds the extremely cool black and white photo of the boys, looking as sharp as knives, setting out on the back of an extremely groovy-looking motor scooter.
Classy Twister
Inside the cover the disc comprised a dozen songs, six covers, three by The Bryants and three originals. First up is 'This Little Girl Of Mine', a big fun, jumping, jazzy R&B number by Ray Charles which was originally released on Atlantic in 1956. The Ev's version sets the tone for the entire LP, stripping out the more showy, novelty aspects for something with a hint of country twang. The next cover is Little Richard's 'Keep A Knockin' (But You Can't Come In)', the original on the Speciality label a brief slab of such unmuzzled mad genius that man mountain John 'Bonzo' Bonham totally copped the mad, thrashing drum intro beat-for-beat for Led Zep's 'Rock & Roll'.
The Everly's version dispenses with the intro entirely and turns the whole crazed shebang into a pretty classy mid tempo dancefloor twister with a neat piano break, and an ending which tonally jests with their trademark keeningly effortless vocal harmonies. Their version of 'Be Bop A Lulu' which follows is also perfectly acceptable though, unsurprisingly, it never threatens to match the prowling sexual urgency of Gene Vincent's original which, backed with the sobbing 'Woman Love', is revered by all in my household as one of the top ten singles ever released.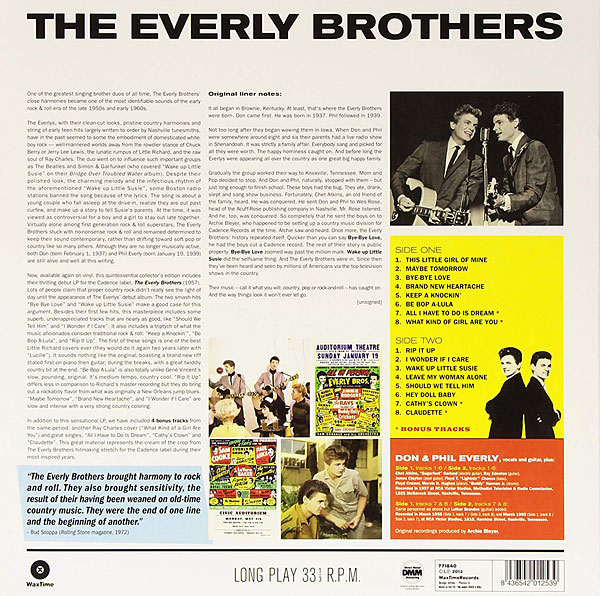 Another Speciality track made famous by Little Richard comes next – 'Rip It Up'. Again The Ev's corner the growling, ragged-maned original with a whip and chair, tame it into submission then dress it up like a blue collar worker letting his hair down at the small town local dancehall on a Saturday night. Ray Charles' 'Leave My Woman Alone' follows suit, as does 'Hey Baby Doll' by Titus Turner, the dude who co-wrote the tip-top 'Leave My Kitten Alone' with Little Willie John.
The three original tracks on the album are 'Maybe Tomorrow, Should We Tell Him' and 'I Wonder If I Care As Much', all decent strides on the journey that would ultimately lead them to their self-penned classic 'Cathy's Clown', so brilliant that The Beatles, no less, copied the vocal arrangements for their 'Please Please Me'.
Sibling Sound
What exactly was it that Don and Phil, and they only, had that others such as Simon & Garfunkel and Lennon and McCartney sought to emulate? According to Linda Ronstadt, who covered their 'When Will I Be Loved' in 1975, 'They had that sibling sound. The information of your DNA is carried in your voice, and you can get a sound [with family] that you never get with someone who's not blood-related to you'.
Fans like The Hollies, The Beach Boys and The Beatles gave it a good go anyway, Lennon and McCartney doing their best Evs impressions in their early gigging days in Hamburg – Lennon playing the role of Don, taking the lower, baritone parts, while McCartney aped Phil with his higher counter-melody.
Indeed, there is probably no better proof I can think of for the major influence The Everlys' debut had on emerging '60s beat than the fact that The Beatles once toyed with the idea of calling themselves 'The Foreverly Brothers'.
Re-Release Verdict
The sleeve of this Waxtime reissue carries a mini-review by Archie Bleyer – record producer, bandleader and founder of the NY Cadence label. You can see him (and The Everly Brothers) on a 1959 Swedish TV programme on YouTube. The 1958 first US release on Cadence [CLP-3003] was a 12-track album – issued in the UK on the London label in mono – but the 180g version here, a Direct Metal Mastered LP according to the rear sleeve, has four bonus tracks. And if you buy from Amazon, an MP3 version is thrown in for free. HFN