ELAC Miracord 80 Turntable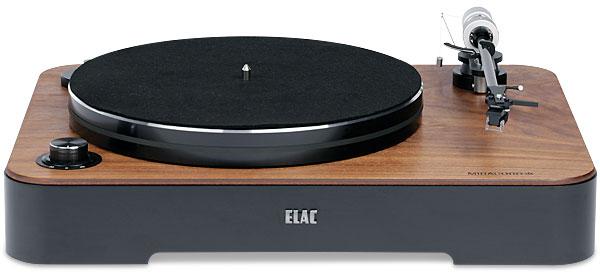 ELAC revived the Miracord name for its 90th anniversary with a brand-new turntable – a celebratory model now trickled-down into the new Miracord 80, complete with MM
When ELAC relaunched its turntable lineup in 2017, earning an EISA Award along the way for the Miracord 90 Anniversary, it wasn't at first clear the German audio brand actually intended a concerted push into this back-from-the-dead product category. After all, there was a lot going on at the company and this turntable was presented as a celebration of ELAC's distinguished history.
Yet that particular award-winning Miracord 90 model [HFN Jul '17] – which led into a regular edition – was only the start. Several more accessible vinyl players followed, including the Miracord 50 and Miracord 70 [HFN Jun '18], positioning ELAC both in the entry-level and midrange markets where there's stiff competition from the likes of Pro-Ject, Thorens et al.
Seconds Out, Round Two
Now we have the new Miracord 80, which bears a striking resemblance to the anniversary turntable which kicked off the second vinyl wave at ELAC – 'second wave' because the Miracord name recalls ELAC's legendary turntable stable from the 1950s and '60s, the Kiel-based company even tapped into old hands when restarting turntable production. The new decks are modern in style and design, though.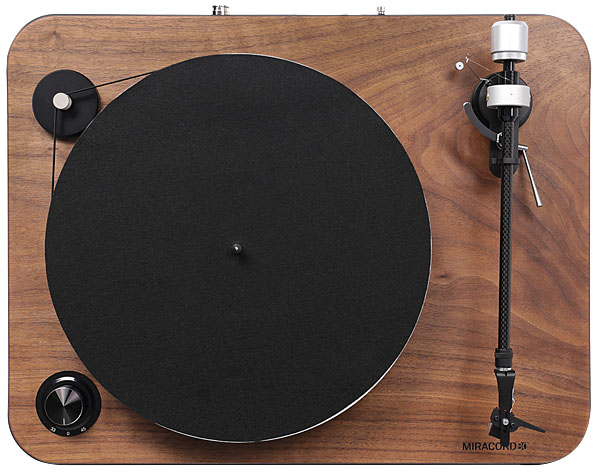 Referring to the Miracord 90 from a few years ago, now no longer available, is relevant. The belt-driven Miracord 80, priced at £2199, shares a lot with it, including the chassis and general design philosophy. But on close inspection you'll notice the Miracord 80 is equipped with a redesigned tonearm. Its stiff 10in carbon fibre wand, fitted with a detachable headshell, makes swapping out cartridges just a bit easier, while its low-ish effective mass suits moderate-compliance pick-ups.
As before, ELAC manufactures this deck in-house... except for the carbon tonearm, which is sourced from 'another German firm'. Would it be Clearaudio, supplier of the D96 moving-magnet cartridge that's optionally bundled with the turntable? ELAC isn't inclined to say.
The Miracord 80's 298mm-diameter steel platter is weighty in a way the tonearm isn't. When placing it, you can't fail to notice its 5.6kg heft. The turntable's chassis is impressive too, consisting of a substantial 60mm-high MDF plinth with rounded corners. The milled-wood body, a sizeable 470mm wide, also gets a wraparound brushed aluminium exterior, adding a level of sophistication and a distinctly different flair from the minimalist one-piece decks from competitor brands.
The outer panelling contrasts nicely with the two finishes ELAC offers. A version combining black anodised metal with a high-gloss black plinth looks lush, while the sample we received was finished in a high-quality walnut veneer. Minimalism abounds with both colour options, as there are virtually no visual distractions besides a neat integration of the tonearm base, a finely finished metal knob to select 33.3 and 45rpm disc speeds, and the pulley that drives the belt. Where many belt-drive turntables hide this part underneath, ELAC has opted for an external approach, with the belt tracing around the periphery of the metal platter.
Analogue Partner
Setting up the Miracord 80 shouldn't prove challenging at all. If you opt for the full version with the factory supplied D96 cartridge, which is a rebranded Clearaudio Concept V2, you'll find everything needed in the box. Attach the headshell with mounted cartridge and select the right tracking force of 2.2g, and you are practically done. With compact digital scales this procedure is a doddle, and manually it isn't too hard either as ELAC has (finally!) furnished markings on the counterweight. Placing the antiskating-thread-and-weight is as fiddly as ever, but ELAC is far from alone in using a near-invisible clear nylon wire ending in a tiny loop. The last step is placing the rather flimsy felt mat – this is one area where some enthusiasts might treat themselves to a 'straight out of the box' upgrade.
Neither is a dust cover included as standard with the Miracord 80. This is something of a recent ELAC tradition, preferring to offer a sleek look, but those with a fear of dust landing on their precious vinyl collection can buy one for £199. The cover requires some finesse to place but, once in position, complements the deck's curvy aesthetic.