ELAC Adante AF-61 loudspeaker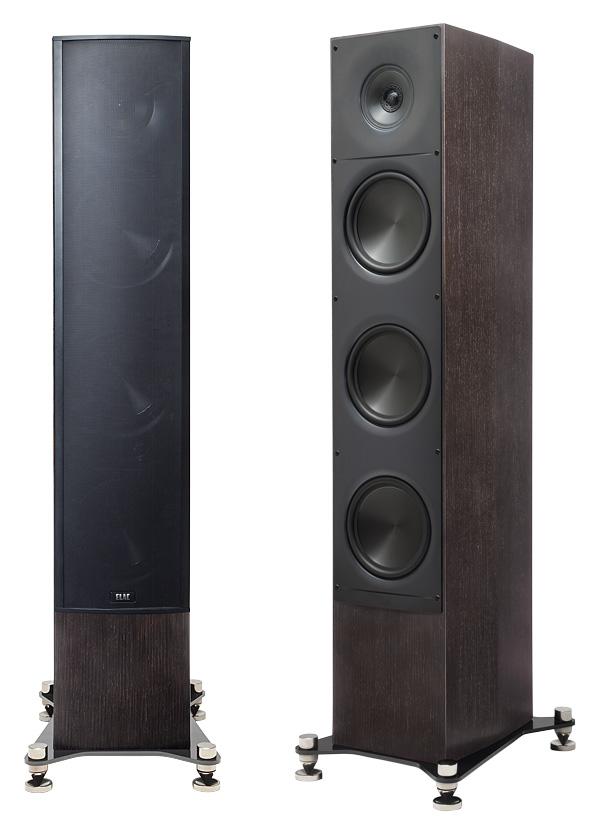 With a coincident driver array and interport-coupled cavity bass, meet the company's most radical floorstander in years
Out with the old and in with the new. ELAC is a German loudspeaker company of quite some repute and a great many years' standing. Yet major changes have been afoot at the company, with its new VP of Engineering, Andrew Jones, indelibly stamping himself on the brand's products. A former KEF man – there in what were arguably the company's harvest years with Laurie Fincham, in the late 1980s – he went on to put Pioneer's luxury brand TAD on the map with some great soundinghigh-end loudspeakers [HFN Jan '15].
Design Echoes
Since February 2015 he has been based at ELAC America's headquarters in Cypress, California, designing models that have a far wider appeal than the company's slightly parochial Kiel-born products of yore. If the last ELAC speaker you heard was five years or so ago, you will be surprised at the new direction it has taken.
The £5200 Adante AF-61 could have been bespoke tailored for the leafy suburbs of Middletown, USA. It's a big and imposing floorstander able to move vast amounts of air in medium to large listening rooms. Yet it would be wrong to characterise the new ELAC as a 'big banger' that's as crude as it is capacious, for it's actually a highly complex, sophisticated design, where most of the clever thinking is hidden within.
Indeed there are fascinating echoes of Andrew Jones's time at KEF in the use of a concentric mid/tweeter, which has shades of KEF's Uni-Q [see KH's Sidebar]. Also, the sophisticated internal cabinet design, with its interport-coupled bass, harks back to his time spent in Kent. There are shadows of KEF's Four-Two models here, which also had no visible bass drivers – as with the Adante AF-61 they were tucked away inside the cabinet.
The driver lineup takes some getting used to. Mounted at the top of the front baffle is a 5.25in black anodised aluminium midrange cone – chosen, ELAC says, because it is fast, stiff and low in distortion – with a centre-mounted 25mm soft-dome tweeter. This coincident cone/dome driver array is mechanically isolated from the other drive units in the speaker, and indeed the cabinet itself.
The array is also shared with the impressive £2600 Adante AS-61 standmount [HFN Feb '18]. ELAC says that the tweeter's larger than usual surround means it can cross over to the midband unit a little lower than is typical for a three-way design, at 2kHz. Below 200Hz, three specially designed 6.5in aluminium cones take over to handle low frequencies. These have powerful magnets, high quality voice coils and cast baskets, but they are not the things you see on the front baffle because they're actually mounted inside the interport-coupled cavity cabinet.
From here, they aspirate three front baffle-mounted 200mm passive radiators, also sporting aluminium cones, via an internal reflex port. The idea is that passive radiators minimise the port noise that results from large amounts of air being moved around by the internal bass drivers, and also help stop standing wave resonances escape. It's an intricate and complex arrangement, something that Jones called with typical British understatement, 'a very involved system to design'.
Fuss-Free Floorstander
Standing a lofty 1330mm tall, the Adante AF-61's cabinet is as solid as you'd expect of something weighing 46kg, with a swish black anodised aluminium baffle, into which the treble/mid array and passive bass radiators are set. It comes in a choice of gloss white, gloss black or furniture-grade satin walnut veneer. A dual set of rear binding posts is fitted, to accommodate bi-wiring/bi-amping, while the tall cabinet sits on a steel base plate that has four adjustable spikes.
Despite its size and design complexity, ELAC's flagship Adante floorstander proved relatively easy to set up in editor PM's listening room. The absence of an external bass port appeared to make it less fussy about placement, although it still needed to be about 80cm out from the boundary wall, and toed in slightly.