Edgar Winter Group: They Only Come Out At Night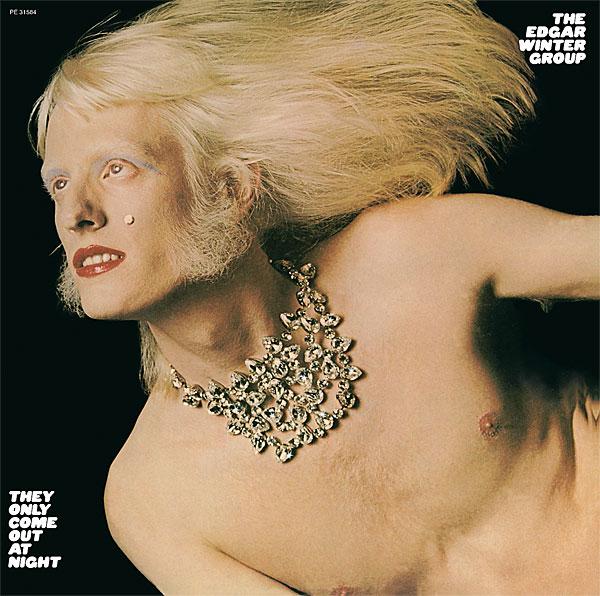 Take one pale Texan and a band of top talent and you have an LP ready to rock the charts. Steve Sutherland assesses a 1972 album destined for reissue on 180g vinyl
Say what you like about Quentin Tarantino, but one thing's for sure: the man's got great taste in movies. Listed among his favourites are the obvious (Apocalypse Now, Fight Club), the not so well known but fantastic (Takashi Miike's Audition, Bong Joon-ho's The Host) and one that especially concerns us here, Richard Linklater's Dazed And Confused.
Released in 1993 but based in the Summer of 1976 as high-school breaks up, it's the coolest, cutest, cleverest teen drama in the whole world ever, with a stunner of a soundtrack to match.
Sassy Rename
Principal among the songs that accompany the jocks and stoners as they cruise their way through all the comings of age are a handful that punk really should have seen off for dead, but which sound, if anything, even more poignant, partying and alive than they even did back in their day. There's Aerosmith's mighty 'Sweet Emotion', ZZ Top's saucy 'Tush', Lynyrd Skynyrd's elegiac 'Tuesday's Gone', Foghat's bitchin' 'Slowride', Kiss's dandy 'Rock And Roll All Nite', Rick Derringer's funky 'Rock 'N' Roll Hoochie Koo', and last but most certainly not least, The Edgar Winter Group's monumental 'Free Ride'.
Viewed through the movie's heartwarming nostalgic haze, these tunes bestride the world like groovy beflared cheesecloth-shirted giants, all big grins and horny struttin' stuff with flame paint jobs and throbbing engines. Longhair Quaalude heaven.
Edgar's the one we're here to prostrate ourselves before. Born albino in 1946 in Beaumont, Texas, the younger brother of likewise albino blues guitar legend Johnny, Edgar Winter spread his considerable talents across keyboards, saxophone, percussion and guitar, releasing his solo debut album, Entrance, in 1970 to appreciative reviews. A year later he formed the wonderfully named White Trash, which he then almost immediately dumped in favour of the less imaginatively titled but considerably sassier Edgar Winter Group.
And in 1973, it was this aggregation – guitarist Ronnie Montrose, drummer Chuck Ruff and bassist Dan Hartman – under the leadership of Mr Winter who recorded the album for which he's most famous, They Only Come Out At Night.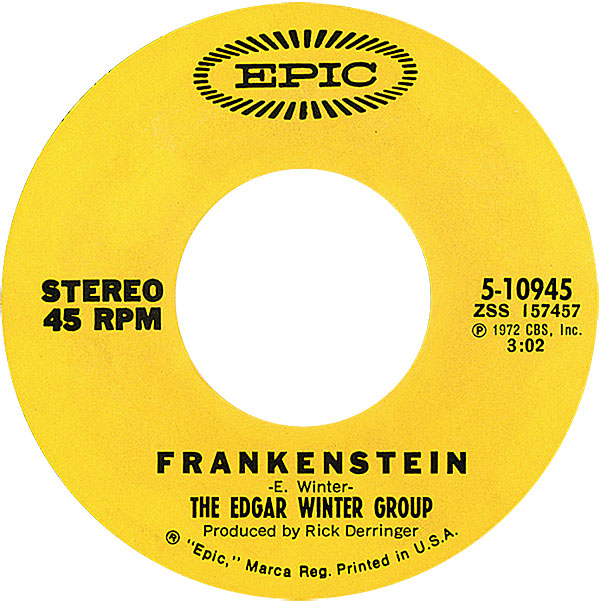 Rebellious Vibe
They were a strange band, to say the least, and not entirely like-minded, as Mr Winter recalls. 'When you're putting a band together, you have to look at the chemistry. I liked the idea of having a wild and crazy guy on guitar, and Ronnie always brought spontaneity to the music. What I loved about him, he was just a live wire and really unpredictable. He had this rebellious rock vibe that I loved. It was a good balance. Dan Hartman just loved pop music and his music had almost a carefree innocence to it, then Ronnie's stuff had this edge.
'So it was a good chemistry – I think great bands are always about the chemistry, the contrast, and how it all fits together.'
The album featured Edgar on the stunning cover, topless in bright red lipstick wearing a neck tiara of jewels. It was produced by the aforementioned Rick Derringer who would replace Montrose on guitar soon enough, and become famous for essentially two American classics: Hartman's breezy car/sex anthem 'Free Ride', featuring the bassist author on vocals; and 'Frankenstein', a lumbering instrumental that, amazingly, went to No 1 in the US charts.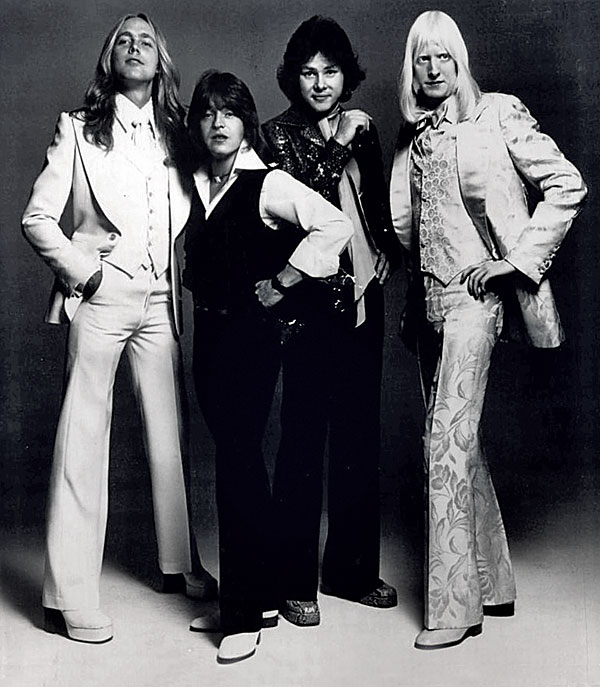 Finding New Sounds
It began life a few years earlier as a jam vehicle for when Edgar joined his brother onstage at gigs. They referred to it as 'The Double Drum' song and it hung around all of Edgar's bands, transforming itself into a vehicle to test out techniques on this new-fangled instrument called the synthesiser.
'When it first came on the scene, the synthesiser was a very controversial instrument,' he recalls. 'I have been both accused of and acclaimed for ushering in the era of the synth. People saw it as putting musicians out of work, for dehumanising music, etc.
'But I was always interested in seeing what the instrument could do. There were people using the synth to simulate the sounds of already existing instruments, others were more like programmers than musicians, creating loops. But I looked at it from the viewpoint that I always liked science fiction, soundtracks like the sounds of the Theremin in Forbidden Planet and things like that, so I wanted to see if I could create some never-before heard sounds.
'That was, and remains, my approach. Using the infinite flexibility of a synthesiser – modulating, vibrato and pitch bend – I think that all makes it the most human of instruments really.'
'Frankenstein' found its way onto the album due to Derringer insisting that they could condense something solid from all their jamming. 'I thought it was a crazy idea, but I like crazy ideas. It was a crazy excuse to get more blasted than usual and have a big end-of-the-project editing party. The version we had was like 15, 20 minutes long. There were so many sections because, every time a new sound would come to me, we'd create a new section.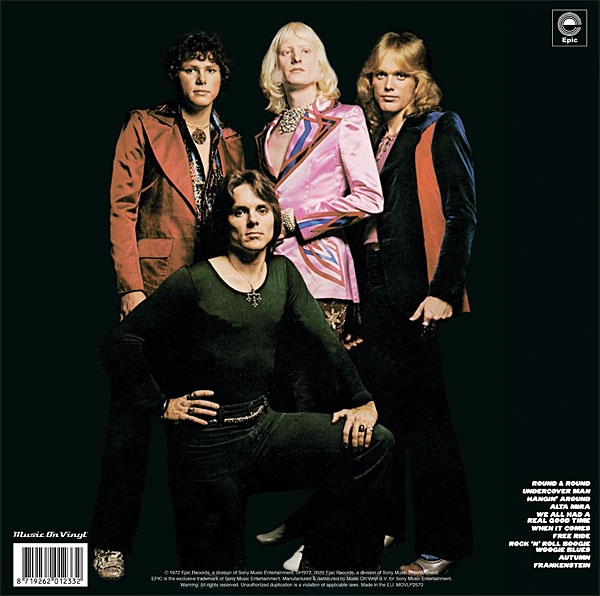 'And the only way to edit something, back then, was to physically cut the master tape, which was a harrowing experience. It was much like cutting a diamond – if you messed it up then it was over, you lost it. We picked our edit points and the tape was lying all over the studio, draped over the backs of chairs and lying on the console. We were trying to put it back together. Chuck, the drummer, came in, saw us putting all this together and mumbled the immortal words, "Wow, man, this is like Frankenstein – taking an arm from here and a leg from there". As soon as he said those words, we had the name of the song. The monster was born!'
It wasn't supposed to be a single. They slapped it on the B-side of another track, 'Hangin' Around', but the deejays started to flip the disc and before they knew it, the monster became… yup… a monster.
And along with it came a true monstrosity. The album may have sold over two million copies on the back of the two hits but it also spawned a grotesque beast, second only to the headless bass as a curse on the whole of music-kind. Mr Winter unleashed the synthesiser from its very moorings and sashayed forth to boogie…
'I happened to be the first guy to get the idea of putting a strap on the keyboard. It's such an obvious idea, yet one that no one had thought of. When I saw that the Arp 2600 models were one piece of machinery, but it was in two pieces, and was relatively lightweight – the brains of the thing was a mad scientist contraption console with all kinds of knobs and sliders.
'I thought, "Hey, I think you could put a strap on this thing and play it like a guitar", which is exactly what I proceeded to do. I will never forget that moment, the first time I walked out with the keyboard on a strap, the audience went crazy. It was one of those wild rock 'n' roll moments.'
Re-Release Verdict
Produced in autumn 1972 by Rick Derringer for the Epic label [EA 31584; UK EPC 65074] this was Edgar Winter's third studio album but the first by his Edgar Winter Group. It came hard on the heels of Roadworks, released earlier the same year. They Only Come Out At Night spawned two singles, 'Frankenstein' and 'Free Ride', while the LP reached No 3 on the Billboard 200 chart. Music On Vinyl is reissuing the LP on 180g vinyl [MOVLP2570] in a gatefold sleeve on July the 24th. HFN