Dynaudio Focus 160 (£1800)
The updates to this long running range have proved particularly effective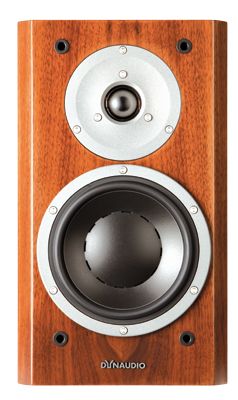 Dynaudio's Focus range was getting a bit long in the tooth so we weren't surprised to learn when we requested the 140 for this test that it had just been replaced with this new model, the 160. Little has changed externally – if you're the type who can distinguish Aston Martins at a glance then you'll note a new light grey paint finish on the drivers and the use of Torx fasteners, only three of which now attach the tweeter – but internally there's more that's been breathed on.
As before, the cabinet side walls taper a little towards the rear from the narrow bevels at the front baffle edges – a feature which helps tame internal standing waves – but the enclosure has been significantly stiffened. The 170mm bass-mid driver retains its magnesium silicate polymer (MSP) cone, and the voice coil is still aluminium to reduce moving mass. It has a new 'slim-line' diecast aluminium basket, though, and a black Kapton voice coil former for improved power handling.
Dynaudio's familiar 28mm soft dome tweeter has been enhanced too with what is described as 'a vastly improved precision coating', which suggests enhanced control of diaphragm damping. A first-order crossover is again used to eliminate the phase distortions introduced by higher-order networks.
RARE BALANCE
More than once in the past I've criticised Dynaudios for being a bit, well, bland. Tonally neutral, certainly, but lacking a certain pizzazz. And, indeed, the Focus 160 doesn't sound quite as hard-wired to musical events as the PSB does. But I'd never use the B-word about this Dynaudio. On the contrary – like many of the best-realised speakers having first-order crossovers – it strikes a rare balance between warmth and transparency and delivers an addictively natural sense of spaciousness and dynamic.
This was immediately apparent in the nuanced but big-boned delivery of the Kodály cello piece – a real test of a speaker's ability to command your attention. Then, in the movement from Scheherazade, the Focus 160 evinced surprising bass heft on the orchestral climaxes as well as giving a wonderful sense of the large acoustic of the Geneva hall. As a convincing facsimile of a symphony orchestra at full tilt, none here could match it.
Bass weight and a good measure of control were also to the fore in 'Come Together'; and 'Songbird' soared just as it should. There wasn't quite the PSB's bite on the sometimes aggressive acoustic guitar of 'The Dog Song', but importantly, the performance was full of character.

Originally published in the October 2011 issue