CC Revival: Cosmo's Factory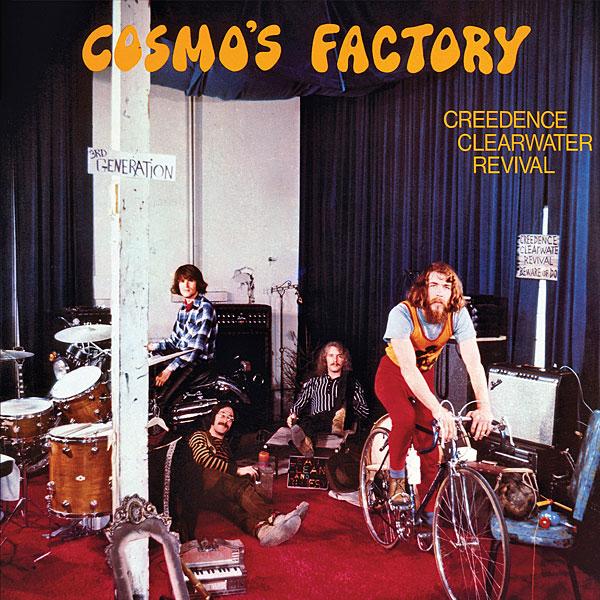 Packed with tracks that would become staples of rock radio, this 1970 LP from Creedence Clearwater Revival is now released on 180g vinyl. Steve Sutherland listens...
Let's talk 'covers'. Surely everyone knows the rule by now: a cover version is only acceptable if it takes the original and does something different with it, which at least equals or at best improves it. There. It's not exactly rocket science is it? So how come there are still so very few classic cover versions after all these many years?
I mean, indisputably there's Jimi Hendrix's surrealist take on Bob Dylan's pretty ordinary 'All Along The Watchtower'. And there's The Byrds' breezy make-over of 'Mr Tambourine Man'. Both improve on the original, but with Dylan – in my opinion, a good writer but often a lame performer – that's like taking candy from a baby.
All Fired Up
Aretha Franklin did something pretty wonderful with sexual politics when she owned Otis Redding's 'Respect'. And, of course, Joe Cocker stole The Beatles' 'With A Little Help From My Friends' by sheer force of nature alone, something John Lennon achieved on behalf of the Fabs when he matched The Isley Brothers' 'Twist And Shout' for sheer raw effervescence. Oh, and Devo pulled a neat little new-wave trick in disassembling The Stones' 'Satisfaction'. And that's about it…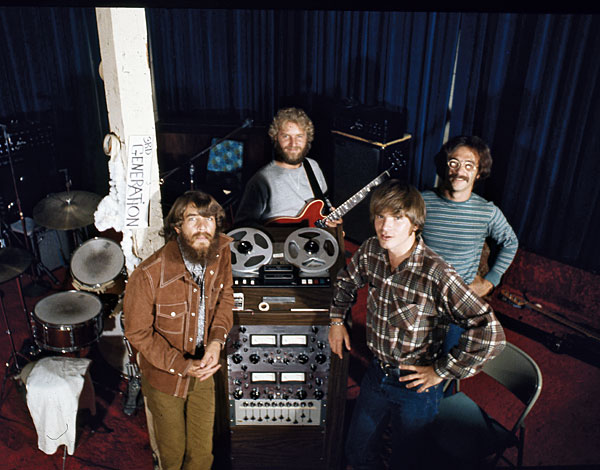 The reason I mention all this is because Cosmo's Factory – the album we're here to celebrate – boasts four cover versions, and all four are beyond worthy. What three of these covers say is, 'We're not a rock band, we dig rock 'n' roll', which, in 1970, was quite a political statement implying a dissatisfaction with the way music was heading into the clouds, when its feet should stay firmly planted in the soil.
'Ooby Dooby' had been made hugely popular by Roy Orbison back in 1956, his groovy rockabilly recording emanating from the famous Sun Studios in Memphis. CCR's version sounds like Dr Feelgood: true to the original spirit but fired up for a punk rock future. Then Bo Diddley did 'Before You Accuse Me (Take A Look At Yourself)' in 1957 as a cool, elegant blues. CCR spruce it up for last calls Saturday night at the local dive.
Arthur Crudup's 'My Baby Left Me' was resurrected in 1956 by Elvis Presley as a B-side – unvarnished rockabilly in excelsis. CCR remain faithful to their inspiration but, like the other aforementioned covers, it sounds natural, as if it's actually theirs.
Top of this impressive pile is the 11m take on 'I Heard It Through The Grapevine', a massive soul-pop hit for Marvin Gaye on Tamla Motown in '68. Creedence dig a groove and mine it, over and over, a monstrous rousing exercise in assured repetition, Fogerty's growled vocal amazingly as memorable as Gaye's smooth delivery and worth the price of this album alone.
The covers aside (and included), Cosmo's Factory is pretty much entirely splendid. And that's just how it was planned to be. There's a laser-pointed calculation behind the track listing which, for acute observation of the contemporary times and sheer personal vengefulness, has never really been matched. Nothing about Cosmo's Factory is remotely accidental. Its sum matches its parts, and then some.
Hard Done By
It was Creedence Clearwater Revival's fifth LP inside two years – an output of stunningly high quality. Included in the 45 or so tracks released in that time span were 'Proud Mary', 'Bad Moon Rising', 'Green River', 'Down On The Corner' and 'Fortunate Son', all guitarist/singer John Fogerty compositions, and all of which became Top 3 hits in the American charts.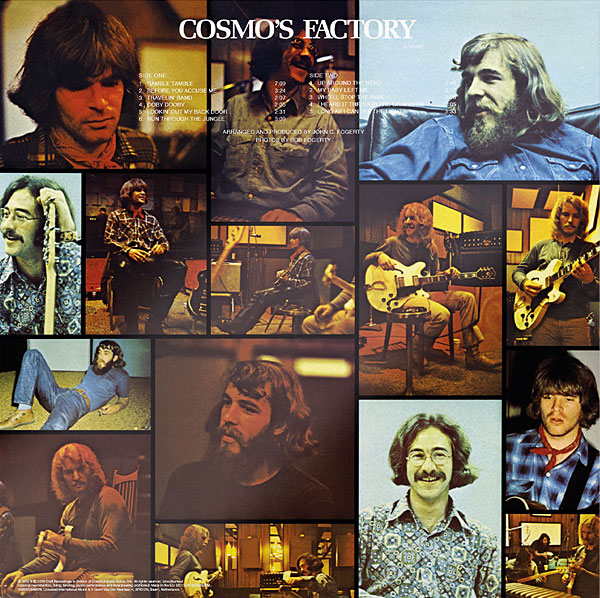 And yet CCR felt hard done by. Their reputation was that of a singles group in an era when 'the album' was the passport to credibility. They felt somewhat sneered at by the hip San Fran space cadets, added to which the band was harbouring festering internal grievances that were about to explode. John Fogerty had 'stolen' leadership of CCR from his co-band member, older brother Tom, and there was violent resentment that led to the latter quitting not that far off down the road.
The rest of the members weren't too enthralled either. Fogerty junior ran them military-style, insisting on long, gruelling rehearsal sessions. That's actually where the name of the album comes from – the warehouse in Berkeley where the band bashed away early in their career. It was dubbed 'The Factory' by drummer Doug 'Cosmo' Clifford, because of the enforced daily practices held there.
Protest Artwork
The cover, too, is a loaded image. Taken by Bob, another Fogerty brother, the photo shows the band about as uncool as you can get, 'more like lumberjacks than rock stars', as one critic put it. John is deliberately right at the back, fed up with taking all the pressure on behalf of his bandmates.
Then there's the '3rd Generation' sign affixed to the post at the left of the photo – a reference to a liner note on the band's debut LP by critic Ralph Gleason, which read 'Creedence Clearwater Revival is an excellent example of the Third Generation of San Francisco bands', which Fogerty took to mean they weren't quite as good as The Grateful Dead or Jefferson Airplane.
Everything about Cosmo's Factory is a protest of sorts. The magnificent opener, 'Ramble Tamble', is a seven-minute organised jam that begins and ends in rockabilly territory and expertly freaks out in the middle as if to raise a middle finger to the Fillmore crowd – 'anything you can do…!'
The No 2 US single 'Travelin' Band' is the next original, a tongue-in-cheek, beat-that, heads-down-no-nonsense tour story delight. Then there's 'Lookin' Out My Back Door' with all its trippy imagery. Some said it was written to mock all their drug-inspired rivals but Fogerty later explained that it was actually culled from the Dr Seuss kids' book And To Think I Saw It On Mulberry Street to entertain his three-year-old son Josh. Country singer Buck Owens is also mentioned in the lyrics, as if to argue that the Bakersfield sound was every bit as renegade as the hippie one, if not more so.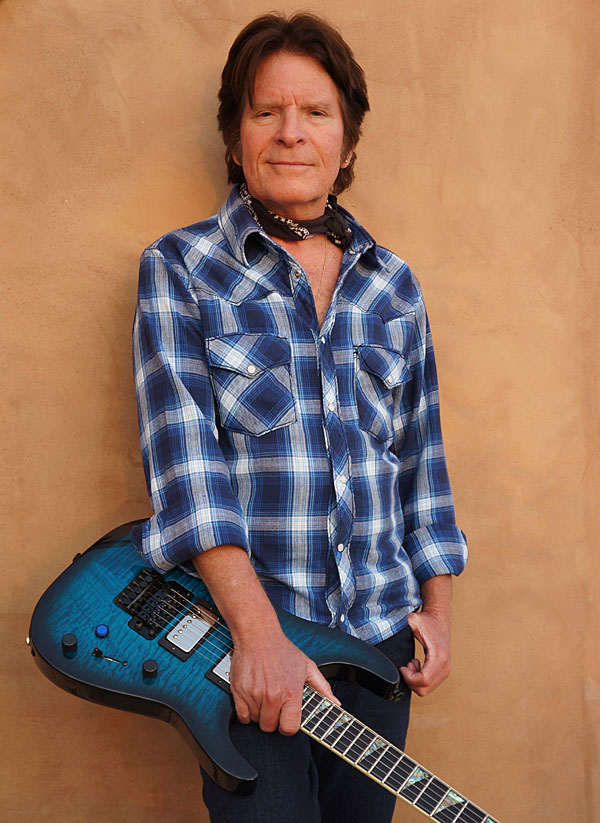 'Run Through The Jungle' follows, a proper snarler that was immediately interpreted as a comment on the Vietnam war. Fogerty was sympathetic to the protest cause but declined the pat consensus: 'The thing I wanted to talk about was gun control and the proliferation of guns... I read around that time that there was one gun for every man, woman and child in America, which I found staggering.
'So somewhere in the song, I think I said, "200 million guns are loaded". Not that anyone else has the answer, and I did not have the answer to the question – I just had the question.'
'Up Around The Bend' is another CCR good-timey single that mines the roots of rock 'n' roll as opposed to (mind-) expanding them, while 'Who'll Stop The Rain' is kinda folky, again as if to say James Taylor, Neil Young, et al, ain't no big thing!
Finally, 'Long As I Can See The Light' closes the album. It's a straightforward ballad, 'Wanting to feel understood, needing those at home to shine a light so that I can make my way back'.
Creedence Clearwater Revival's Cosmo's Factory is a remarkable achievement – of, against and beyond its own time.
Re-Release Verdict
This is the 50th anniversary of Creedence Clearwater Revival's landmark 1970 album Cosmo's Factory (then a Fantasy label release). It's newly available singly from Craft Recordings, and in 2018 was remastered at half speed by Abbey Road Studios' award-winning engineer Miles Showell as part of the seven-disc 'Studio Albums Collection'. Pressed on 180g pure vinyl it comes in a tip-on sleeve which replicates the album's original packaging. HFN