B&W 703 S3 Loudspeaker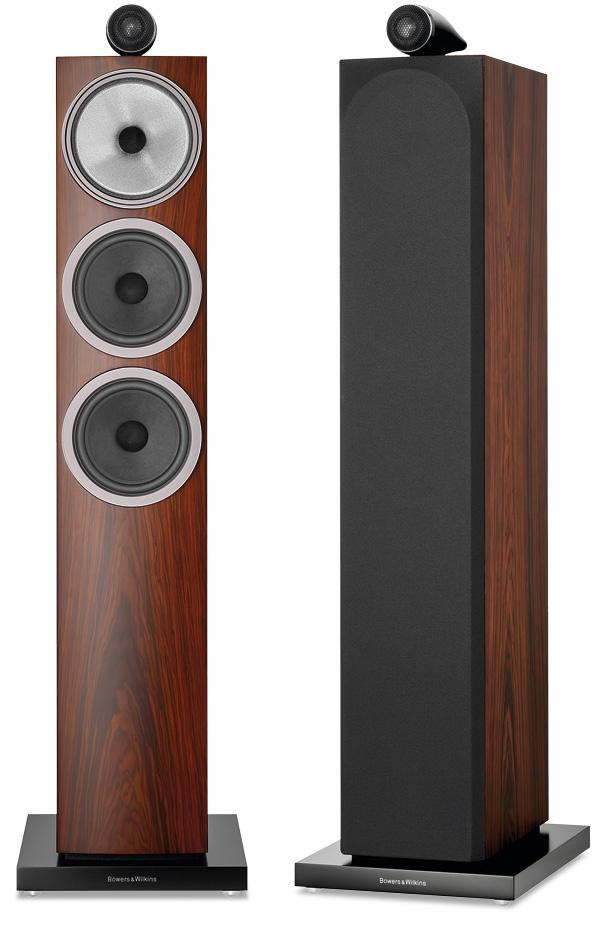 The third iteration of B&W's 703 floorstander is the first to feature the brand's iconic 'tweeter-on-top' module
Although a major player in the domestic hi-fi market, B&W's loudspeaker catalogue appears relatively streamlined – beginning with the entry-level 600 series and crowned by the flagship 800 series, and with these latest 700s sandwiched in-between. This lineup, which we're told is aimed both at 'performance-orientated' audiophiles and 'non-specialist' buyers, surely marks B&W's sweet spot. And that's certainly an apt description for the 703 S3s auditioned here.
Priced £4200, this speaker is the 700 series' middle floorstander, flanked by the larger 702 S3 (£5500) and smaller 704 S3 (£3000). Like those offerings, it's available in a choice of three very smart finishes – Gloss Black, Satin White and a new Mocha colourway that (outside of the Asia-Pacific region) replaces the Rosenut wrap of the previous S2 generation. Rounding out the eight-model range are three standmounts (705 S3, 706 S3 and 707 S3), plus two centre channel speakers for home cinema installations.
Out On Top
As expected, the new 700 S3 range introduces numerous upgrades, many informed by the design and engineering of B&W's 800 D4 models [HFN Nov '21 and Feb '22], which launched a year earlier. These include a gentle aesthetic overhaul: for example, the 703 S3's mid and bass drivers are now mounted in chrome-effect (but plastic) 'pods', lifting them out from the speaker baffle, whereas they were a flush-fit on the S2s [HFN Dec '17]. And that baffle, 25mm thick and stiffened, is now gently curved to reduce diffraction, and a touch slimmer at 192mm compared to 200mm.

However, the most obvious change in the 703 model is the introduction of B&W's tweeter-on-top, as previously only the 702 and 705 speakers sported an externally mounted HF driver. Again borrowing from the 800 Series, its robust alloy housing features a longer tapered tube than before (to better attenuate the dome's rear radiated output) and double rather than single decoupling. Production budgets must still be met, so while the 800s use 'diamond' treble domes the 700s are equipped with 'carbon' domes.
Suspension Lift
The 703 S3's 150mm midrange driver, a Continuum cone design, features a tuned mass-damping trim ring and is itself decoupled from its outer pod by six isolator pads to limit interaction with the two 165mm 'paper-skinned' Aerofoil bass drivers below. Also culled from the 800 D4s is the latest FST midrange driver with biomimetic suspension, this web-like cone support replacing a more conventional spider. These bass and mid drivers can be protected by supplied grilles that have also been revamped, now extending all the way from the bottom of the baffle to the top, rather than stopping under the lower bass unit. These magnetically attached covers are acoustically benign, so if you like the look, you can happily leave them on.
Recommended positioning for the 703 S3s is between 1.5m and 3m apart, forming an equilateral triangle with the listening position, and at least 50cm from side and rear walls. This seems a simple enough practice to follow, and with the speaker standing 111cm tall including plinths, the top-mounted tweeter is likely to be around ear-height. As for the plinths, these are a fresh design and now a 'must fit' rather than treated as optional, perhaps because these more slender and deeper cabinets create a greater topple hazard. The plinths, which attach via robust M6 screws, complete a very smart-looking package, and can be fitted with stainless steel spikes or rubber feet.
The 703 S3 also comes with a dual-ring foam insert to resistively load the speaker's bass reflex port should you wish – this is rear-facing on this mid-tier model, but the flagship 702 adopts the down-firing design of the 800 D4s. Below the port is a set of wide-spaced speaker terminals, now more accommodating of spade connectors, which feed the speaker's split crossover network. Again, there are upgrades here, including improved heatsinking.