The Bar-Kays: Soul Finger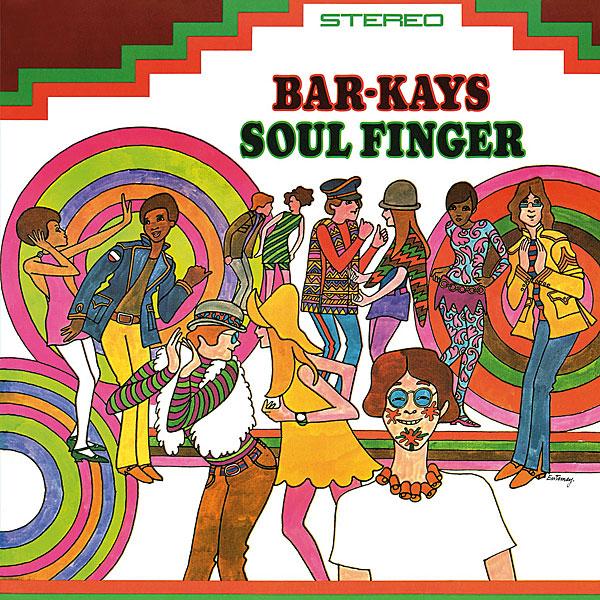 Steve Sutherland relives the fateful night when four of The Bar-Kays flew with Otis Redding in 1967, the plane diving into icy Lake Monona. The album is on 180g vinyl
The next thing he knew he was floating. Freezing cold and floating. His head hurt. There was blood. He heard a noise. Then another. Cries in the distance. Cries for help. He began to go under and he splashed around, found a seat cushion and desperately clutched it to his chest to help stay afloat – he'd never learned to swim.
Over there he could just make out Carl, then Ronnie bobbing about in the water, his head emerging then sinking again. He could see that Carl was still strapped in his seat and the seat was dragging him down. Where was the plane? He couldn't see the plane. Where was it?
Sound Of Silence
He kicked his legs. He was only wearing one shoe. Soon there was no more shouting. No more crying. Silence. He began to drift. His hands getting colder. Colder still. Too cold to hang on to the cushion. Too cold. He let it go and… This is the life that flashed before him.
Six-year-old Ben Cauley is in the New Friendship Baptist Church in South Memphis, singing in the choir. Ben is in seventh grade at Booker T Washington High School. He is playing the trumpet along with a group of his schoolmates and neighbourhood kids. There's Jimmy King playing guitar, Phalon Jones playing sax, Carl Cunningham on the drums, Ronnie Caldwell on keyboards, and James Alexander on bass.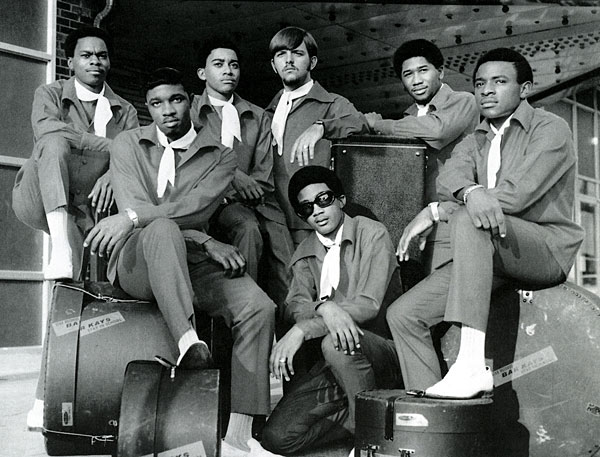 There they are, The Imperials, cocky under-age kids with funky chops and flashy dance moves, illicitly playing The Palace… Flamingo Room… Club Tropicana… Blue Stallion. At The Hippodrome, the vice squad raid, the owner, connected, already tipped off, the band stashed in the dressing room, the bust over, back blasting on stage.
Rename Homage
Then there was the audition at Volt/Stax… Al Jackson and Booker T Jones, of Booker T. & The M.G.'s, heroes, stars, coaching and encouraging… The name change in homage to the Mar-Keys, a cheeky take on their favourite tipple, Bacardi… The sessions when The M.G.'s were busy elsewhere… Albert King, Rufus and Carla Thomas, Sam and Dave… The session rehearsal covering J J Jackson's But It's Alright. The vamp on 'Mary Had A Little Lamb', the neighbourhood kids loitering outside the studio… Isaac Hayes and David Porter coaxing 'em in to let loose and shout 'Soul Finger!', paying 'em off with Coca Cola…
The party when Soul Finger goes Top 20… the song playing out at every bar-b-q in the South and beyond… his song… The B side, 'Knucklehead', Jimmy's guitar ringing like a bell, rocking every house party on the block...
Recording the album… having big, big fun with the cover of The Mad Lads' 'I Want Someone'… Getting their bolero on for 'Theme From Hells Angels', a make-believe movie theme … 'Bar-Kays Boogaloo', their swinging signature tune… 'With A Child's Heart', softer, sadder, and purely instrumental… 'House Shoes', the coolest of the cool... 'Hole In The Wall', donated by The M.G.'s, groovy like ice… Loring Eutemey's album sleeve, a cartoon hippy psychedelic love-in, all beads 'n' bells 'n' mini skirts…
The band so tight they lay down the whole album, all instrumentals, in just one day… The astonished delight of producers Tom Dowd and Chris Huston who thought they'd seen and heard it all… Dowd telling tall stories about Aretha Franklin, John Coltrane, Ray Charles and Otis…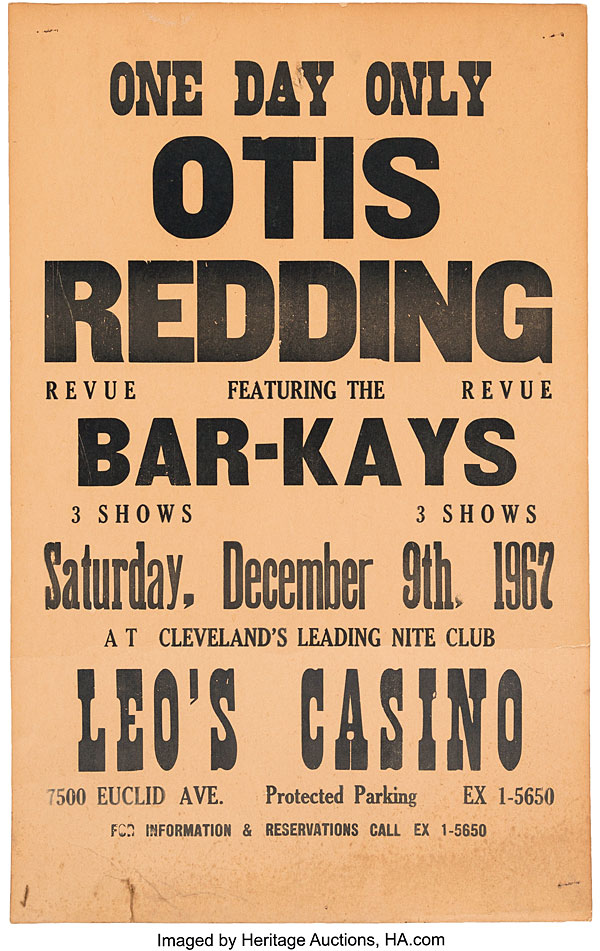 Taking Off
Ah, Otis… Otis!… Otis running backstage at The Hippodrome, all excited, yelling, 'Y'all bad!'… Otis, fresh from his triumph at The Monterey Pop Festival where he matched, nay slew, The Who, Jimi Hendrix and Janis Joplin… Otis offering them the gig as his backing band… Ben explaining they were still in school and could only do weekends… Otis laughing and saying 'no problem', he'd pick them up in his plane on Fridays… Ben's parents saying 'No'… Otis pleading… then Ben pleading… Otis offering tutors on tour… Ben pleading some more… Mom and Pop throwing up their hands, giving in, having to write out notes of permission…
Then came the summer of '67 and the ten-night stand at The Harlem Apollo… Sh*t scared… more pleas, for a rehearsal… Otis refusing… 'You boys know the numbers'… Still in school and the world's hottest act showing so much faith!… The stage outfits – they only had one each. And on the third night some cat in the crowd yelling, 'You guys need some new suits!'.
And James Brown!… James Brown!… The band cranking up 'Papa's Got A Brand New Bag' and The Godfather of Soul himself jumping on stage to duet with Otis... Wow!... What a night!
Then some down time, as Otis paused to have a polyps removed from his throat...
Early December, back on the road… weekenders at colleges… Flying to and fro in Otis' new twin-engine Beechcraft… Friday December 8, Vanderbilt University, Nashville, Otis hot, the band cooking… Saturday December 9, Cleveland, Ohio, filming the Upbeat TV show then, later, a gig… Sunday December 10, up early – 5am – everyone sleepy, making their way to the airport to fly to their show at the Factory in Madison, Wisconsin… James Alexander drawing the short straw and leaving them there to go return the hire car and catch a commercial flight… James saying he'll meet them at the other end…
Kind Of Low
Everyone climbing into the Beechcraft… eight of them in all… the cabin freezing… Carl asking an attendant to crank up the plane so the cabin can warm up… The attendant refusing, saying something about the battery being kind of low and he'd rather leave it to the pilot… Dick Fraser, the pilot, starting the engine… Otis sitting up front with him, the band, exhausted, drifting in and out of sleep… Otis talking about this new song he's written, 'Dock Of The Bay', how proud he is of it, how, when they get back to Memphis, they'll have to finish it, and put down some horns… Sleep… Sudden violent shuddering… Phalon glancing out of the window, seeing something, saying, 'Oh no!'…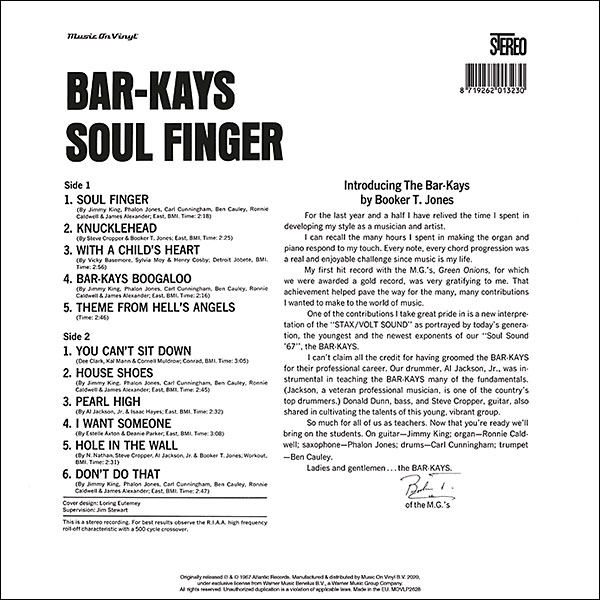 Unbuckling his seat belt, getting up out of his seat, going over to see what it was that Phalon was seeing in Lake Monona below… Blackness… Blackness…
And too cold to hang on to the cushion… He let it go and… hands grab his shoulders, hauling him into a boat.
In the hospital he learned that a man who lived lakeside had seen the plane go down, at a 35 degree angle, straight into the lake. The man called the police and they arrived within 17 minutes.
Lying alone in that hospital bed, he said they had a gig to play tonight and he had to go. They said, 'No son. No'. Then they told him he was the sole survivor. They said he was lucky. But Ben didn't feel lucky. He didn't feel lucky at all.
Re-Release Verdict
With 11 songs, Soul Finger was the 1967 debut album by The Bar-Kays, recorded by Tom Dowd and Chris Huston at the Stax Studio, Memphis, and issued in the States on the Volt label [VOLT S 417] – distributed and reissued by Atlantic. The title track became a Top 20 crossover pop hit. As Steve says, the band had been tutored by Al Jackson, Jr, and Booker T. & the M.G.'s. Here, it's reissued with the original artwork, on 180g vinyl, by Music on Vinyl [MOVLP2628]. HFN