Audio Technica At120e (£120)
Some treble issues detract from the overall performance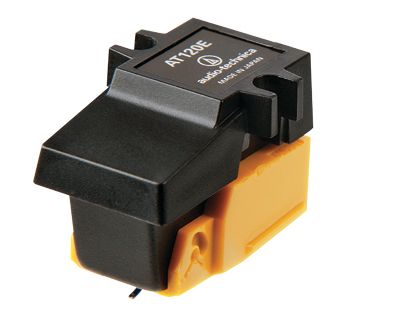 With nearly 50 years' experience under its belt, Audio-Technica has established a reputation for building good value MM and MC phono cartridges. The AT120E is second from the top of Audio-Technica's MM range, sitting just below the AT440MLA (£159) which has inspired its body shape and alloy tube cantilever. Where they differ is in the stylus, with the AT440MLA using Audio-Technica's square MicroLine design, compared to the AT120E's more conventional elliptical profile.
The AT120E has a functional fit and finish illustrated by the lack of branding on its nose. The body is constructed in two colour-coded parts, the black generator section forming the upper body with mounting lugs and the lower, removable orange section carrying stylus and cantilever. This allows for a straightforward upgrade path if users want to stick with the same stable, by buying the stylus for the AT440MLA (£108).
Of the group the Audio-Technica was the most tedious to mount, partly due to its open lugs and partly by the lack of space underneath for the threaded bolts to extend before hitting the top of the orange stylus housing. The easiest method is to attach the upper body of the cartridge to a tonearm without the stylus in place.
By contrast, alignment was straightforward thanks to the squared-off top edge, parallel lower sides and sloping front face, angled back for a clear view of the stylus and cantilever. Audio-Technica recommends an optimal tracking force of 1.4g within a range of 1.0-1.8g; however, after repeated listening I settled on 1.7g which I found produced optimum bass weight.
DECENT SEPERATION
Beginning with 'Down By The Seaside', the kick-drum immediately made itself known with a firm presence, although the hi-hats were notably softer compared to the Clearaudio, for example, and overall the percussion didn't quite convey the full energy of John Bonham's playing style. Lead guitar notes sounded reassuringly full; however, some upper registers in the bass guitar tended to overwhelm the midrange, notably during Buckley's 'Get On Top'. I also sensed part of the top octave was absent from Buckley's voice, especially when compared to the Benz Micro rendition. Channel separation was excellent though: on 'Devil Eyes' I found myself anticipating the drummer moving left and right for the cymbals.
Moving to the Mahler, strings had notable depth, replaying the hall ambience evenly. The performance hung together convincingly, although is wasn't as cohesive as with the higher-end models, the sparse short harp sections for example seeming further back into the mix and less contributory. And the stereo image wasn't as wide as the Grado, which diluted the grandiose effect of the piece.

Originally published in the September 2011 issue